The demands of writing, editing, translating and syndicating hardware reviews plus covering editorials, news posts and site maintenance leave me no more time to write the type of full-length music reviews I did when 6moons wasn't as busy yet. Even so, readers who share my love of what generally goes by world music though that's a pretty poor descriptor—does everything else come from outer space?—keep asking for a least miniature capsule mentions so they can accompany me on my field trips into worthwhile new finds or rediscoveries in my library.
Here I must quality 'new' with 'new to me'. Just because I discover something now doesn't imply it was recently released. It could be rather older stuff. That's the magic of music. The good stuff is timeless. Heck, aficionados of classical music keep listening to compositions which are a few centuries old. Time and timing aren't of the essence. Selectivity is.
Professional music reviews tend to educate their readers with data like genre history, styles, key artists and core recordings which one ought to know of in any given sector. This page isn't that. All that this is are mini mentions of music I happen to have on rotation during any given month. Think of it as sneak views into somebody else's playlists – mine in this case (M&H are Marja & Henk).
In a sentimental mood
The absolute fun part of visiting an audio show is not just meeting new like-minded people. It's discovering new music. There's so much of it 'out there' but how to meet it? In the olden days we had pirate radio stations. Those often played wicked music without any control from record companies to simply explore the musical tastes of a DJ working under a nome du guerre. Pirate radio stations were illegal and one's own enjoyment didn't override that harsh fact.
At the 2019 Warsaw show we entered a room whose Tascam open-reel deck was its pièce the resistance. Well, the visible piece. Aurally there was more and it was a Hammond B3 that first announced itself. Next a very live a drum kit entered which we really enjoyed. Once we learnt that the album was available on vinyl, we and the record were sold. Back home we dug into this live-in-the-studio affair called In a sentimental Mood featuring Polish jazz legends Wojtek Karolak on organ, Adam Czerwinski on drums, Tomak Grzegorski on tenor sax, Robert Majewski on flügelhorn and Marcin Wadolowski on guitars. This limited 500-piece edition on heavy pristine vinyl pressed by DMS in Plymouth again had the same effect on us as it did in Warsaw. Eight tracks alternate Duke Ellington and Sonny Rollins standards with Polish originals. This combo makes for interest throughout to transcend yet another standards collection.
The actual recording was made in Gdansk while the equipment was a selection of the finest all-analog gear still kicking. Such productions create exciting timing and tuning. From Gdansk the master tapes shipped to Abbey Road where not only mastering but DMM copper cutting took place which led to high-quality pressings. Bravo for a true audiophile recording that's not just the sonic goods but of truly fine music which happens to be recorded as it should, mastered as it should and pressed as it should. ACRECORDS.PL ACR 009. M&H
Would you like to download the current image?
Grooveberek
After acquiring In a Sentimental Mood, we were gifted with another ACrecords called Grooveberek, of the MAP trio playing with Krzesimir Debski. The MAP are Marcin Wadollowski on guitars, Adam Czerwinski on drums and Piotr Lemanczyk on bass. Guest Krzesimir Debski took care of violin, Fender piano and some vocals. After In a Sentimental Mood, our hopes were high to hear another interesting plus well recorded, mastered and pressed outing. Again the recording studio was in Gdansk, the mastering from Abbey Road Studios and the pressing on 180-gram vinyl. Alas, our disillusion couldn't have been greater playing this back at home. No matter how carefully made, processed and pressed, we cannot stand a recording that has one of its participants play out of tune. Mind you, that's not just one off-pitch note to remind us that it's not robots but humans playing. It's on every track where this player figures. The guilty party here was violinist Krzesimir who in our opinion makes the album unbearable to listen to. How could this have slipped through the cracks? M&H
Marja & Henk forwarded me one track for a second opinion. I heard the same. It reminded me of a Gary Karr track where the bassist plays some Albioni or Pachebel. It's been a staple of audio show demos. Each time I hear it, I bolt from the room. The man is so sorrily out of tune. Yet everyone else sits there transfixed in their seats following poor musicianship. Apparently pitch sensitivity between listeners varies widely.
Would you like to download the current image?
Concerto em Lisboa
Mariza. Concerto em Lisboa. You had to be there. You had to be. Sometimes a song is more than just the words. To have a song that resonates with a nation's soul is special. Mariza. Sings Fado. Fado is described as the soul music of Portugal, full of references to the glory of the homeland, the beauty of Lisboa, with a lot of it poetry by the nation's brightest poets. They are deeply attached to both their land (terra) and, as a historically significant seafaring nation, the sea (o mar). Mariza sang Fado in her father's bar in the Alfama district of Lisbon. Then in 2001 out came her version of "O gente da minha terra" written by the original queen of Fado, Amalia Rodrigues. The lyrics are:
"O people of my land, it's only now that I perceive, this sadness that I carry, was from you received.
This ballad is both yours and mine, united by our destiny no matter how much is denied, by the strings of the guitar.
Whenever we hear a lament of a guitar playing, we are soon filled with a longing to weep.
It would be a kindness if I were able to soothe it, and by releasing the sorrow, make my song less melancholy."
So here we have a diva addressing her people but at the same time, including them. She is them. Terra is not just 'land' but basic 'earth' as well. Oh people of the earth? Appealing to the inherent melancholy of the Portuguese nature is the saudade of Portugal. Her version of the song was a world-wide success and Mariza spent several years touring the world. She's unsurprisingly popular despite not singing in English as she is a beautiful, tall dramatic presence on stage with a very emotional way of singing. (Rumour has it that an A+R man said 'she'll never make it unless she sings in English.' Decca turning down the Beatles springs to mind?) Then in 2006 she put on a huge concert in the open air in Lisbon – Concerto em Lisboa, available on DVD as well. The 'return' of the singer who represented the soul of the country? When she sang "O gente", the emotion was understandably tremendous. In tears she dramatically ended the concert to ecstatic applause from her audience. Oh people of my land, this sadness was from you received. Such drama and soul. – Christopher Skelton
Would you like to download the current image?
The other side
As one of the most lyrical pianists on the circuit, Tord Gustavsen's The Other Side returns him to celebrated trio form after an 11-year hiatus from that particular format. Regular drummer Jarle Vespestad joins him with bassist Sigurd Hole and though this outing features the piano on some dense chordal work, the majority of numbers reconnect us with the moody melodic minimalism of the first three Gustavsen Trio efforts. This latest one features three meditations on J.S. Bach scores, makeovers of traditional songs and originals by the Norwegian pianist/composer. It covers hymnal church ground, dreamy exploratory Jazz and processional balladic elements with the occasional fractal deconstructionism. With its shifting conversations, the ensemble's interplay draws us listeners into their virtually psychic mind meld. As the album title suggests, this is about moving over to the other side where things are simpler, more beautiful, more intrinsically connected and multi-dimensional. The 'method' to crossing that bridge is a gently probing questioning attitude or feeling-inquiry just like this music embodies, demonstrates and invites. Glorious graceful stuff!
Would you like to download the current image?
Sounds of Mirrors
Sounds of Mirrors combines the singer/oudist Dhafer Youssef with Zakir Hussain on tablas, Hüsnü Senlendirici on clarinet and Eivin Aaeset on guitar. It catches up the Tunisian with an Indian music encounter he had as a 19-year old when studying classical music in Vienna. Ever since he'd dreamt of one day playing with one of India's maestros. Whilst touring France nine albums later, he invited Zakir on stage to sign up his first contributor for this latest album. The Turkish clarinetist whom he'd played with before came next to add the sinuous timbre of a wind instrument, thus creating a classic formation like Hüsnü's Taksim Trio or Anouar Brahem's trio on Astrakan Café which featured Barbaros Erköse on clarinet and Lassad Hosni on bendir and darbouka. But Sounds of Mirrors goes one more and ties it all together with the ethereal synth-type vibes of the Norwegian Jazz guitarist to create a work that "felt to me like an ode to friendship and fraternity" explains Dhafer. "When we were playing together, I could feel quite distinctly that we were as kindred spirits mirroring each other. Hence the name of the album, Sounds of Mirrors." Without obscuring Dhafer's unmistakable talent for lively odd-metered grooves, the majority of Mirrors is contemplative, dreamy and spacy. It showcases the wisdom of maturity which always manages to say more with less and less. By doing away with the piano of Dhafer's prior formations, Mirrors by necessity focuses on melody and rhythm over harmony. That naturally closes the circle with the milieu of Indian music which stylistically remains otherwise in the background though Eivin's standing chords mimic its drones. It's contemplative world music magic between Tunisia, Norway, Turkey and India to truly transcend cultural borders.
Would you like to download the current image?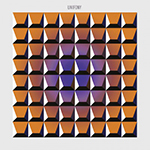 unifony
In these fast-paced times, most recordings are rushed. Studio time is costly and limited so artists spend as little time there as possible. That a group of musicians spend time together in a studio is even rarer. Instead of vis-à-vis interaction, most tracks are recorded at various places and times. All recorded material is later mixed and assembled. In that process there is the possibility to fix things. Loudness, timing, tuning and—if you are lucky phase—get matched to get one coherent result. Technically there is nothing wrong with this approach. It is efficient on all fronts. But something still has to give. In this case it is the musical emotion. You either play your part in your own little cocoon by yourself; or with another musician. The result is quite different especially when musicians have chemistry.
UNIFONY is a musical collaboration between two Dutch multi-disciplinarians. Minco Eggersman and Theodoor Borger are musicians, producers and composers while Theodoor adds being a sound engineer and studio owner. It was in that studio, fully equipped and with a cozy atmosphere, that this project came to life. They wanted to make music in a relaxed and creative way not based on compositions but layers of sound. And the influence of electronics on the recording chain should be zero, i.e. the musicians should not worry about settings and gear choice. For that no-worry condition, Grimm Audio stepped in as sponsor. With that settled, there was only left the addition of a third musician – Norwegian trumpeter Matthias Eick. Now you get why we were even more interested.
After the recording sessions were finished and roughly mixed, there was mutual satisfaction and appreciation. Still, a little thing nagged Minco. The recording was made in the old-fashioned 80s' way where one of Minco's favorite sound engineers is the now retired Phill Brown. So he contacted his hero to check their recording. Mr. Brown agreed and invited Minco and Theodoor to Miloco Studios in London where he added his own magic. Minco and Theodoor were on the 7th moon with the result. Then came mastering. With the endorsement of Phill Brown temporarily returned from retirement for this project, it was no wonder that Bob Ludwig was prepared to step in for the final process. When James Marsh designed the artwork, the project was done. UNIFONY is not only spiked with big names, it is also a very musical endeavor. Twelve tracks take the listener on an aural flight through beautiful soundscapes. Steady rhythms keep the voyager alert, keyboard accents and drones act as coloured waves and Matthias Eick's sometimes eerie trumpet meanders trough the illusory picture. This is not the next ambient project full of electronica. This is music from the heart; lyrical and emotional. M&H
Would you like to download the current image?
Lullabies
Lullabies From The Axis Of Evil is a clever if also bracing title for an album from the classy Norwegian label Kirkelig Kulturverksted, home of audiophile diva Kari Bremnes. What has George W. Bush's geopolitical term and implicit condemnation of certain nations to do with a wonderful compilation of down-tempo songs which feature vocalists from Lila Downs and Nina Hagen to Rim Banna and Sevara Nazarkhan, from Kari Bremnes to Shofani Jawaher, Rickie Lee Jones and more? It's likely because of where these tunes and some of their singers are from. All the more reason to listen in and crash cultural divisions. If one does, what reveals itself is a strong collection of exotic voices in surprisingly modern settings including far-out backdrops like the National Cathedral Girls Choristers underpinned by massive bass beats. Like Sting's famous "if the Russians love their children too" refrain, Lullabies reminds us that a mother's love for her child cares nothing for class, caste, culture or religion. It's universal. And this album celebrates a few musical facets of that. Go back in time when you were a toddler. Let these women sing you to sleep. It sure beats getting yelled at by some Heavy Metal rocker on acid.
Would you like to download the current image?
Mayte Martin
Tempo Rubato by Spanish cantaora Mayte Martín wears its weeping heart on the sleeves of the classical string quartet Quitxote plus guitar and cajon, with truly iridescent arrangements by maestro Joan Albert Amargós. As a concept, it recalls Miguel Poveda's songs with full symphonic accompaniment which themselves were presaged by Camarón de la Isla's exploratory crossover experiments. Tempo Rubato combines Flamenco's cante stylings with the aesthetic of South-American boleros and cancíons. The latter's profound sweetness recall the legendary Mercedes Sosa. Like the magnolia fragrance appearing in "Gacela del Amor Imprevisto", this perfume of sweetness permeates the entire album. The unexpected overlay of Spanish vocals on a string quartet also transforms the latter's high-brow formality into a more contemporary salon vibe similar to how the Argentine tango orchestra took the same stringed timbres to the bordello and nightclub. Many audiophiles adore female vocals recorded well to often look in the Jazz milieu. For a change of pace, they might tune into the unapologetically gorgeous Tempo Rubato and not only make their hifis shine but also tune up those rusty heart strings…
Would you like to download the current image?
Javier Limon
Javier Limón's Refugio Del Sonido is a solid 3:06 hours or 49 tracks worth of purely instrumental music with a cross section that puts the focus on soloing flügelhorn, cello, violin, guitar, Brazilian clarinet, piano, recorder and more whilst powerful low electric bass and heavy drums lock down modern grooves or shift gear into sophisticated club Jazz far away from experimental abstraction. As producer of albums like Mujeres de Agua—an eclectic collection of world music divas from Eleftheria Arvanitaki to Aynur, Mariza to Montse Cortés—and Promeses de Tierra plus work with Buika and other mostly Spanish musicians, Javier Limón acts as ambassador for gifted artists who deserve broader exposure. Refugio in particular seems dedicated to shining such a spot light on quite a roster of mostly unfamiliar collaborators. The result are terrific high-contrast tunes across an unexpectedly broad swatch of styles and geographical markers. And this Refuge of Sound is a fabulously generous affair on length, being essentially three albums in one.
Would you like to download the current image?
Daniel Casares
Picassares by Daniel Casares is the Flamenco guitarist's 6th solo album whose title, like El Cigala's Picasso En Mis Ojos, is a dedication to painter Pablo Picasso. On it the Spanish guitar traverses most its core terrain of the forms of malagueña, fandango, alegría, tangos, bulerías, rumba and, on "París", even a chanson with fadista Dulce Pontes who sings to the painter's death with lyrics by Antonio Martínez Ares. Like there, "Calle Avignon" sports a surprise violin whilst the bonus track "Prefiero Amar" is carried by the jubilant vocal chords of Miguel Poveda. "Caballo de Guernica" instead gives us the throatier hoarse pipes of Kiko Peña to suit Picasso's most famous painting protesting the Nazi's bombing practice on the Basque town of Guernica during the Spanish civil war. The painter's love of bullfighting's pageantry and gypsy music—he loved Manitas de Plata—is well known. After he'd moved from Barcelona to Paris, Picasso frequented the Au Lapin Agile bistro where he met composers Francis Poulenc and Edgar Varèse. He even designed the stage curtain and costumes for Serge Diaghilve's Ballets Russes. And of course during his Cubist era, he painted guitars. Picassares thus retraces Picasso's appreciation for traditional Spanish folklore with an incendiary Flamenco album full of musical machismo.
Would you like to download the current image?
Strunz & Farah
Tales of Two Guitars is the 2018 and 20th release of celebrated guitar duo Strunz & Farah as the originators of their oft-copied but never matched virtuoso jungle style. The fiery opener "Butterfly's Wing" kicks up plenty of dust with a typical lightning-y staccato duel between their twelve blistering strings. The following "Boleros #3" turns down the speed to go for a slinky vibe somewhere in the tropical Americas. And that theme continues serving up both spicy and sweet though on this release rather more of the former. There's plenty of exotic hand percussion to lay down a dense rhythm carpet. Charlie Bisharat's familiar violin shows up as does Jazzy traverse flute. Throughout, the Middle-Eastern influences of Ardeshir Farah's Iranian roots intermingle with the Cuban-esque flavours of Jorge Strunz's Costa Rican's heritage to create the duo's trademark milieu. Be it unaccompanied like on "Vals Tico" or against a heavy battery of percussion and bass, Strunz & Farah's guitars alway sound like more than four hands at work. That sheer technique can outshine a number's tunefulness like the nth installment of an action movie series which must top the predecessor's stunts is par for this course. These two artists are capable of amazing lyricism but on Tales mostly decided to cram the maximum number of notes into each bar. As such, not my favourite in their packed catalogue but still a showcase for polished guitar work.
Would you like to download the current image?
Göksel Baktagir
Gelece?in ?ark?lar? by qanun maestro Göksel Baktagir is stately chamber music which conjures up visions of a sultan's palace during the Ottoman empire. The sinuous vocals of Nazire Savran with the trademark undulating embellishments and heavy vibrato of this style transport us into a tangible milieu of strong black coffee with sediment, dried apricots, halva and time running very leisurely under a hot climate. Alternate male vocals by Hüsamettin Elçi set a properly dark counterpoint to Nazire's sky-bound registers. The perfumed tunes are down-tempo, saucily emotional and hypnotically cyclical to create a strong sense of time and place. This makes for a lovely displacement of the average Westerner's actual locale. And isn't that the power of music – to transport us to elsewhere, no travel preparations or tickets on our part required except for a quiet open mind so our heart strings are free to be played upon?
Would you like to download the current image?
Anat Cohen
Anat Cohen's Outra Coisa subtitled "The Music of Moacir Santos" is for those who loved Richard Stoltzman's Brazil and Wolfgang Meyer's Bossa Nova with saxophonist Peter Lehel (also check out their Boleros album). Here it means a pure duo setting between Anat Cohen's blackwood and Marcello Gonçalves' 7-string guitar for Brazilian choros tunes. As Wikipedia tells us, Moacir Santos was a multi-instrumentalist, composer and music educator to such greats as Baden Powell de Aquino and Wilson das Neves. As Marcello tells us, "the connection between Moacir Santos and the guitar has been on my mind ever since I heard Baden Powell play Moacir Santos's music on the album Baden Powell swings with Jimmy Pratt. I've always loved the rich orchestral sounds of Moacir's compositions but could not imagine how to transfer the large ensemble sound I heard into my solo guitar. Last year, reading Moacir Santos's scores directly from his songbook, I was surprised how perfectly it fit the 7-string guitar, in the original key, as if the music was composed for the instrument. I spent a year working on that repertoire and when Anat visited Brazil, I proposed that we get together so I could show her the arrangements I'd been working on. The clarinet was Moacir's first instrument. If his compositions sounded so beautiful on the guitar, I could only imagine how special they would sound played by Anat on the clarinet. Anat proposed meeting directly at a recording studio and so we did. When we started playing, Anat, who has known me for many years, said: "I have never seen you so happy!" I responded: "I've never been!" This recording documents those two happy days in the studio"…
Would you like to download the current image?
Subdue
Subdue is a soundtrack of a 2016 film I've not seen whose Persian lyrics I can't comprehend. It's only the English titles like "Shadow", "Let me go", "Here come my tears", The cloud and the rain", "Devastated", "Confounded" and finally "The Beginning" which formalize certain stations along the long emotional arc drawn by a string orchestra, undulating high male vocals, a crying spiked fiddle, a tremolo lute, simple piano fronting background strings, reedy woodwinds mixing in. It's a very lyrical translucent often elegiac soundtrack which firmly stands on its own merit without the moving pictures for which it was first composed. That certain tracks would be short goes with the territory. Those are more than made up for by the long opener and two central tracks. If sonically you're in a rainy-day mood filled with wistful daydreaming, Subdue will turn on the overhead faucets and provide the necessary transportation…
Would you like to download the current image?
Tim Story
Tim Story's buzzle is categorized as electronica by the if-it-ain't-got-no-genre-it-won't-sell types. They do have a point. But it's also as descriptive as identifying gratin au daphinoise as taters. Potatoes are in it but there's rather more to the dish's quite sophisticated execution. Years ago, this keyboardist's typecasting was in fact annexed to New Age. If you'd been an old-time CD seller who had to decide what section to stick 'buzzle' in to have it be found by people who'd like it – you'd have been a bit stumped, too. Yes, the focus on groove and infrasonic synth effects is electronica pure whilst the mostly down-tempo numbers point straight at ambient. Yet Tim's melodic gifts and skills as an arranger and player exceed generic computer-generated fare. That doesn't prevent "Monkey Builderizer" to walk on elephantine beats or crisscross vocal snippets for pure atmospherics. It doesn't conflict with "Yeh!" to circle on its harmonic progressions like a slowly turning ghost carousel in the night. From a hifi perspective, true low bass will test your system's testicular fortitude, artificial soundstage construction its layering chops. So check out whether 'buzzle' might have you buzzing. At 14 tracks, it's quite generous…
Would you like to download the current image?
Santiago Lara
Flamenco Tribute to Pat Metheny by Santiago Lara delivers exactly on what its title promises – a heady but brilliant clash of genres and styles which can turn on a dime to really surprise with inventiveness. Pat Metheny himself has collaborated with Polish songstress Anna-Marie Jopek on their joint release Upojenie to revisit his own repertoire in new settings. On Tribute, the guitar is instead in the silvery hands of Santiago Lara while lyrics like for "Find me in your dreams" are in Spanish and presented in the warbling Flamenco idiom. What could have been an ill-fated concept pitch reveals itself to be an inspired encounter, one as carefully conceived and crafted as Diego El Cigala's organic excursions into the cultures of Argentine tango or Cuban son, El Lebrijano's meetings with Moroccan musicians. Metheny fans will rediscover faithful old favourites like "Letter from home" and "James" without feeling alienated but rather, inspired by how PatMan's long-arcing lines have been given such a respectful cleverly restyled makeover. It's a far smarter proposition than Hollywood's endless reboots!
Would you like to download the current image?
Adnan Joubran
Borders Behind is the solo album by one of the three brothers of the fiery Palestinian oud formation Le Trio Joubran. Sporting angular ensemble work over dense polyrhythmic drums and percussion, the title indicates clear breakout mode from traditional Arabian stylings for Adnan's virtuoso oud. This adds complex tabla fireworks to the usual frame and staccato djembe drums, Indian vocal percussion, spitty traverse flute, moody cello and slinky saxophone. From jagged lightning riffs with bent blue notes to slower maqam interludes, the tracks shift many gears but complex odd-metered percussion and technically high standards of inventive musicianship factor regardless. It makes Borders Behind a very exciting discovery in the purely instrumental milieu of advanced Middle-Eastern music and thus brushes up against free-styling modern Flamenco including the occasional palmas and jaleos. This BandCamp link has you all set with listening and downloading.
Would you like to download the current image?
Ismail Tuncbilek
Ismail Tunçbilek is the third musketeer of the famous Taksim Trio which he co-founded with Hüsnü ?enlendirici on clarinet and Aytaç Do?an on qanun. Ismail plays various electrified long-necked Turkish lutes like the baglama and saz on which he is considered one of their most preeminent contemporary masters. Being a huge fan of the Taksim Trio's three albums to have sought out a concert in a small Swiss church on Lake Geneva and stood at its door for an hour to secure a front-row pew, I'd long searched for a solo album by their very gifted string player. Hüsnü has numerous solo album. So does Aytac. Just listen to his glorious Deva celebration of the Turkish zither. Now Menk?be is that long-awaited solo album by Ismail Tunçbilek who was just 16 when he started working with the celebrated singer Ibrahim Tatlises. Meaning 'saga' or 'legend', Menk?be is a lush nearly saucy multi-layered symphonic studio production with soaring vocals and semi-programmatic filmic settings. Those are strongly suggestive of a Middle-Eastern movie soundtrack which on "Belo" even includes Indian/Flamenco flavours. Truly World Music, Menk?be is scaled very different from the Turkish chamber music of the Taksim Trio. Comparable in its culture-crossing scope and global appeal to Juan Carmona's inspired efforts with Alchemya and Perla de Oriente, Menk?be is thus sophisticated big rousing music from the country at the crossroads between West and East.
Would you like to download the current image?
Al Gromer Khan
Al Gromer Khan, born Aloïs Gromer in Bavaria, is a composer of ambient music who adds his sitar to minimalist drum/synth atmospheres for a style he calls Paisley Music. Having formally studied sitar under Ustad Imrat Khan, he became the first outsider to be initiated into that musical lineage of Indian sitarists. With more than 50 albums under his belt, Al Gromer Khan is nothing but prolific. His very sparse contemplative style is on personal heavy rotation for setting a mood or climate whilst I work if don't want perfect silence. You can find his many albums on Spotify for free easy sampling. Should anything appeal to want to own it, Tidal will almost certainly have it. If you have a subscription, you could build an endless play list lasting more than a day without a single repeat. Where much electronica is robotic, industrial or noise, Khan's quiet style seems rooted in a personal meditation practice. It's more of an invite to go inward by setting then holding a space. It's quasi introspective. It's certainly not so-called New Age or Space music. Nor is it classical Indian for which many Westerners never acquire a real taste. It's its very own thing honed over many decades. To serve this particular niche, it's a personal favourite in what I call organic ambient.
Would you like to download the current image?
M.A. Recordings on vinyl
M.A. Recordings on vinyl. We are fortunate to be able to play our favorite music from many different media: straight from CD; ripped to hard disk: streaming from the interwebs in either Redbook format and lately increasing in higher resolution 24 bits; and more. In that department, Tidal now even offer MQA encoded albums that yield even higher resolution with appropriate decoding/unfolding facilities. We can even enhance the input from hard disk and streaming sources via HQPlayer resampled to DSD512,
Andy Narell
If you're as fond of Andy Narell's steel-drum Jazz à la Fire in the Engine Room, Behind the Bridge and Down the Road as I, you'll likewise have rather impatiently waited out the years for Dis 1. 4. Raf to drop. This glorious and gloriously generous release of thirteen very long tracks is a two-set album with Andy's Parisian quintet of pianist Janysett McPherson, Cuban and Guadeloupe percussionists Inor Sotolongo and Gregory Louis and bassist Thierry Fanfant. The second set becomes a duo between Andy and Janysett. As the liner notes explain, the Afro-Caribbean styles visited include calypso, soca, biguine, son montuno and rumba. With that, this entire gig puts a lie to the notion that white men can't dance. If your body doesn't twitch and shimmy listening to this, you're comatose already. But not only is this infectious fare played between long-time collaborators to be incredibly in the pocket, the tunes build out over long arcs in typically inspired Narell fashion. This is expert story telling from a true master, set to the sunny carefree vibes of the islands. It's unapologetically happy music but very sophisticated at that. Or as I'd put it far more succinctly: "Yo – Andy Narell is baaack!"
Would you like to download the current image?
Diego Amador
Scherzo Flamenco by Diego Amador is an unusual crossover between Flamenco piano and classical composers like Bizet, Borodin and Mussorgsky whose works are recognizably quoted in cuts dedicated to them though made over with Iberian stylings including cante jondo and palmas. This concept is vaguely related to how Jacques Loussier gave Bach, Chopin, Debussy, Mozart and Ravel the Jazz makeover. That the piano is a fully 'Flamenco certified' instrument we already knew from David Peña Dorantes and Pablo Rubén Maldonado, never mind the various Cuban and Tango piano settings exploited by celebrated Flamenco singer Diego El Cigala. Still, the unsuspecting listener entering Scherzo will be very surprised to encounter the classical music quotes; intrigued to place them correctly (the "Old Castle" of Mussorgsky is the most obvious); then delighted by how cleverly Diego develops them for his new concept. To those who'd complain of limited repertoires or lacking musical inventiveness, Scherzo Flamenco is lovely proof to the contrary.
Would you like to download the current image?
Burak Malcok
Grab some Turkish ney à la Ba?ar Dikiçi or Omar Faruk Tekbilek. Mix in ambient groovaciousness à la Mercan Dede or Patrick Chartol. Season with synths which here and there recall early Vangelis. Shake'n'stir. Voilà, Burak Malçok's Sakl? Nefes | Hidden Breath. It's a wonderfully mystical-moody construct of low-tempo grooves above which rises the breathy end-blown flute of the Sufis. For complete playback bliss, augmentation by subwoofer can be a good idea to hear everything there really is to hear. It also maximizes the sheer scale of these virtual soundscapes so cleverly manipulated in the studio. As Burak's second album (the first was Yekpare with Serkan Alkan), it shows greater scope and maturity. It also led Serkan to remix one of the tracks. Frequent collaborator Mercan Dede applied his genius to another. That gives us eight original tracks plus two remixes, all of the quality to become eventual BuddhaBar sightings. As you'd expect for the subject matter, other feature instruments are oud, qanun, trumpet and sundry drums. But always, the soaring flute with the big tone and otherworldly overtone halo occupies centre stage to be our guide into these club-ready but respectfully organic neo Sufi grooves.
Would you like to download the current image?
Would you like to download the current image?