Reviewer: Marja & Henk
Financial Interests: click here
Sources: PS Audio PWT; Dr. Feickert Blackbird MKII/DFA 1o5/Zu DL-103;
DAC: Mytek Brooklyn; Mytek Brooklyn Bridge; T+A DAC8 [loaner]; TotalDAC D1 Direct [loaner]
Streaming sources: Devialet AIR; La Rosita Beta; Qobuz Desktop, Tidal Desktop; Sound Galleries SGM 2015 [loaner]
Preamp/integrated/power: Audio Note Meishu with WE 300B (or AVVT, JJ, KR Audio 300B output tubes); dual Devialet D-Premier; PTP Audio Blok 20; Hypex Ncore 1200 based monoblocks; Trafomatic Kaivalya; Trafomatic Reference One; Trafomatic Reference Phono One; Music First Passive Magnetic
Speakers: Avantgarde Acoustic Duo Omega; Arcadian Audio Pnoe; Podium Sound One; WLM Sub 12; Sounddeco Alpha F3; dual Zu Submisson MKI; Soltanus Virtuoso ESL
Cables: complete loom of ASI LiveLine cables; full loom of Crystal Cable cables; full loom of Nanotec Golden Strada; Audiomica Pearl Consequence interconnect; Audiomica Pebble Consequence USB; Audiocadabra Ultimus3 Plus Dual-Headed Solid-Silver
Power line conditioning: PS Audio Powerplant Premier; PS Audio Humbuster III; IsoTek Evo 3 Syncro; AudioMica Allbit Consequence
Equipment racks: Solid Tech and ASI amplifier and TT shelf
Indispensable accessories: Furutech DeMag; ClearAudio Double Matrix; Franc Audio Ceramic Disc Classic; Shakti Stones; Kemp polarity checker; Akiko Audio Corelli,Costello and Phono Booster; Pink Faun LAN Isolator; Farad external power supply
Online Music purveyors: qobuz.com, tidal.com, bandcamp.com, amazon.co.uk
Room treatment: Acoustic System International resonators, sugar cubes, diffusers
Room size: ca. 14.50 x 7.50m with a ceiling height of 3.50m, brick walls, wooden flooring upstairs, ca 7 x 5m with a ceiling height of 3.50m, brick walls and concrete floor downstairs
Price of review item: €24'000, Daiza platform starts at €400
Spoiler alert. What we have here is, in our opinion, the best 'PC-based' audio streamer on the market. That said, this immediately asks for a correction. 'PC-based' doesn't begin to cover what's going on under its hood. Yes there are components also found in personal computers and yes, the machine runs under the supervision of a PC operating system – at least remnants of such an OS.
First, let's look closer at this phenomenal streamer. It is truly extraordinary as you consider its weight of no less than 45kg. Delivery took two men huffing and puffing. Measuring 483x455x180mm, the SGM Extreme is slightly bigger than the SGM 2015 streamer which it evolved from. We reviewed that predecessor and couldn't help but award it. Most of the Extreme's enormous weight comes from the thick CNC-machined aluminium case while the input transformer and generous use of solid copper plus some Panzerholz are responsible for the rest.
Like Dr. Who, the heart of this machine is dual. 2 x Intel Xeon Scalable 10-core 20-thread processors totaling 40 worker threads divide computing tasks between themselves. Each CPU comes with its own memory bank and separate domain. One domain is dedicated to the operating system, the other to pure audio playback. This is what you call true separation of duties. System memory is built up from 12 x 4GB industrial-quality memory modules. Instead of hard disks or solid-state disks with the aging SATA interface to store OS and local music files, the Extreme uses 280GB of PCIe Intel Optane P900 for the OS, 2TB (up to 24TB) of QLC PCIe for music storage. This combines the best of two worlds – up to 10 x faster speeds for typical OS random small reads/writes, up to 4 x faster speeds for typical large music-file reads over regular solid-state drives while providing easily scaling storage capacity.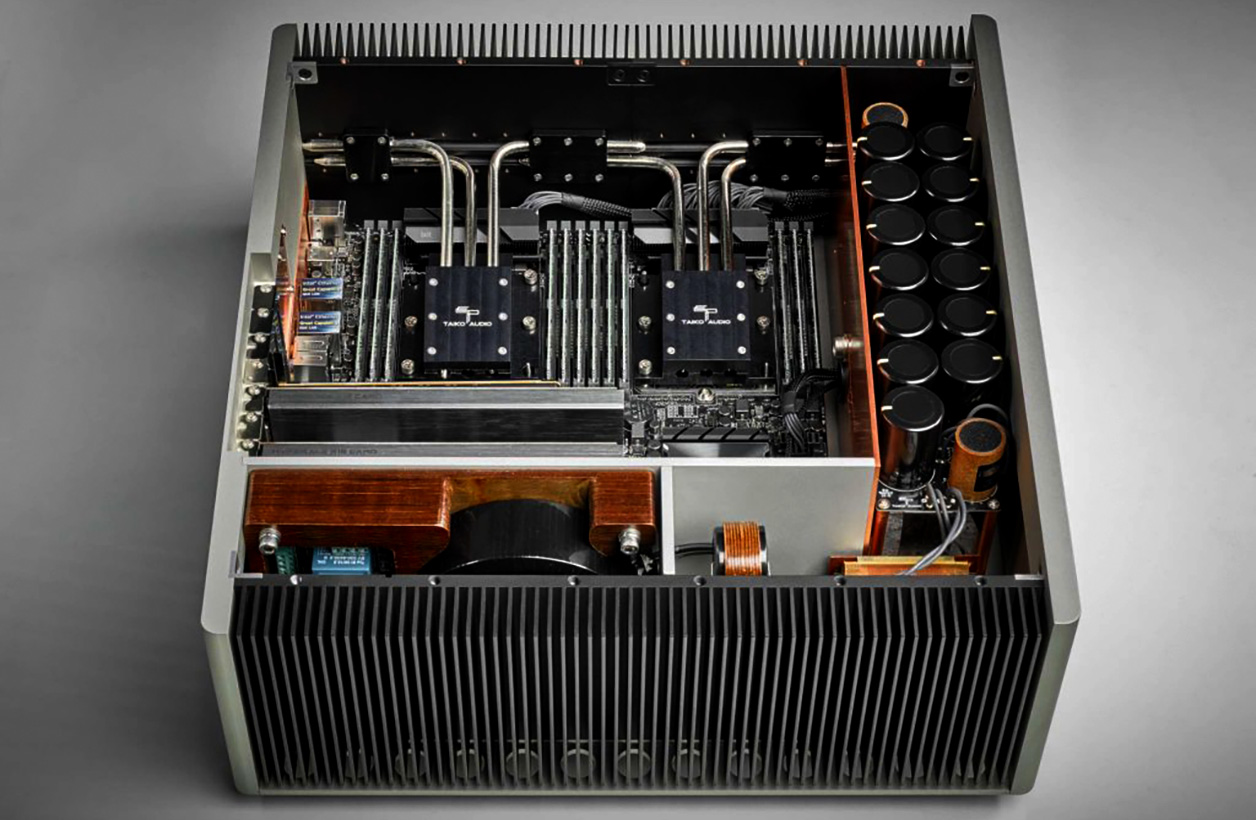 For the power supply, Taiko Audio spec a 400VA transformer backed by Lundahl chokes and a Mundorf capacitor bank of no less than 700'000μF. Two additional capacitors are Duelund silver foil. All heat generated in the power supply or the twin CPU is dispersed passively by heat pipes without any fans.
Would you like to download the current image?