Hylixa the idea combines Ashley's fascination with loudspeakers and the two partners' discovery of the laser sintering process on ARCC's £400'000 machine as a firm they'd already cooperated with as industrial design consultants. They immediately saw how this process would manifest anything their imaginations might conceive to free them from all of the usual constraints. Personal design heroes include Syd Mead, Dieter Rams, BMW's Chris Bangle—Ashley's own design education focused on automotive—architects Zaha Hadid and Thomas Heatherwick, industrial designers Edward Barber and Jay Osgerby plus Sam Hecht and Kim Colin of Industrial Facility. Their influences all point at something sleek, quiet, timeless and free from baroque embellishments to be simple and pure whilst incorporating clever functional novelty. The result also had to be compact to suit the smaller but very expensive flats Londoners call home. Prior experiences with point-source speakers and the notion of extending small-chassis bandwidth with a transmission line mapped a path forward. A folded line eventually went full 3D-orbital and a concept submission to Chris Ellis to model it in acoustic software delivered a promising thumbs up. From there it took six physical prototypes to lock in the final geometry.
As innovators, Ashley and David weren't just focused on cosmetics. They wanted to advance the status quo of the compact speaker art. A visual example is the nylon filter cartridge. It isolates each part in its own sub chamber to eliminate vibrational cross talk, even routes the hardwired Jantzen cabling through dedicated channels (below, prepped for soldering].
Another example for how detail obsessed they went about optimizing the total structure is the included spirit level. Hylixa categorically lacks flat surfaces to avoid diffraction and disappear acoustically as a wind-slippery very inert but low-mass shape whose resonant frequency at ~750Hz is well above the woofer's passband. How to ensure perfect uprightness prior to tightening the lock nuts on the flat or spike footers?
The not-so-obvious answer was this insert that slips into the binding posts to orient the level perfectly flat. Here we see the spiked footers in action.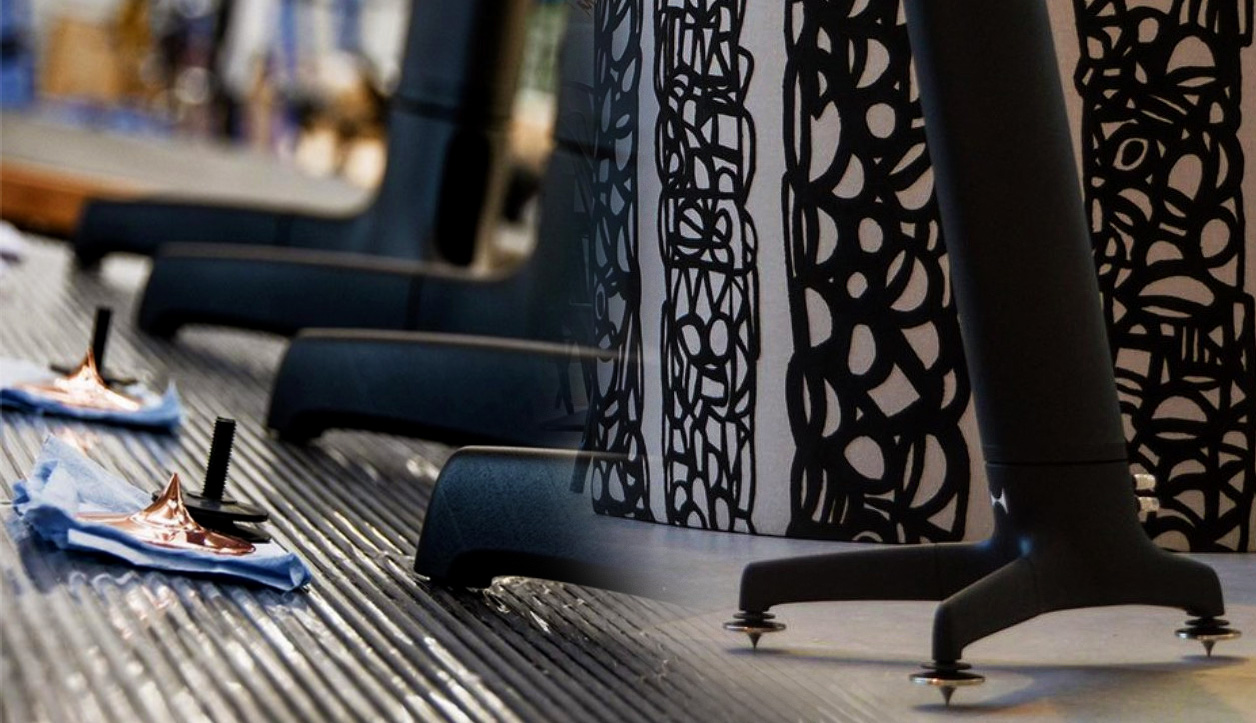 Making the baffle hot-swappable so customers can exchange it in situ meant this immaculately machined aluminium piece with integral retainer shafts which slip into tight rubber grommets.
The thick baffle plating is done by a British aerospace contractor whom Ashley described as "the best in the UK".
Would you like to download the current image?