Reviewer: Srajan Ebaen
Financial interests: click here
Sources: Retina 5K 27" iMac (4GHz quad-core with Turbo boost, 32GB RAM, 3TB FusionDrive, OSX Yosemite. iTunes 14.4), PureMusic 3.02, Audirvana 3, Qobuz Hifi, Tidal Hifi, COS Engineering D1, Denafrips Terminator, Soundaware D300Ref, AURALiC Vega; CanEver Zero Uno HPA [on review]
Preamplifier: Vinnie Rossi Signature w. Elrog/WE 300B or 50/VT52, Nagra Classic, Wyred4Sound STP-SE Stage II, Vinnie Rossi LIO (AVT module)
Power & integrated amplifiers: Pass Labs XA30.8; FirstWatt SIT1 monos, F5, F6, F7; Goldmund/Job 225; Aura Note Premier; Wyred4Sound mINT; Nord Acoustics NC500 monos; LinnenberG Audio Liszt monos; Bakoon AMP-13R; SAG AIO; Crayon Audio CFA-1.2; Linear Tube Audio Z10 [on review]
Loudspeakers: Audio Physic Codex; Cube Audio Nenuphar; Kroma Audio Mimí; Albedo Audio Aptica; EnigmAcoustics Mythology 1; Boenicke Audio W5se; Zu Audio Druid V & VI & Submission; German Physiks HRS-120; Eversound Essence; Fram Audio Midi 150; Børresen 02 [on review]; Living Voice OBX-RW3 [on review]; Acelec Model One [on review]; Fram Audio Midi 120 [on review]
Cables: Complete loom of Allnic Audio ZL3000 and Zu Event; KingRex uArt, Zu and LightHarmonic LightSpeed double-header USB cables; Tombo Trøn S/PDIF; van den Hul AES/EBU; AudioQuest Diamond glass-fibre Toslink; Black Cat Cable redlevel Lupo; Ocellia OCC Silver
Power delivery: Vibex Granada/Alhambra on all source components, Vibex One 11R on amps/sub
Equipment rack: Artesania Audio Exoteryc double-wide 3-tier with optional glass shelves, Exoteryc Krion and glass amp stands
Sundry accessories: Acoustic System resonators
Room: 4 x 6m with high gabled beam ceiling opening into 4 x 8m kitchen and 5 x 8m living room, hence no wall behind the listening chairs
Review component retail: €14'500/pr incl. VAT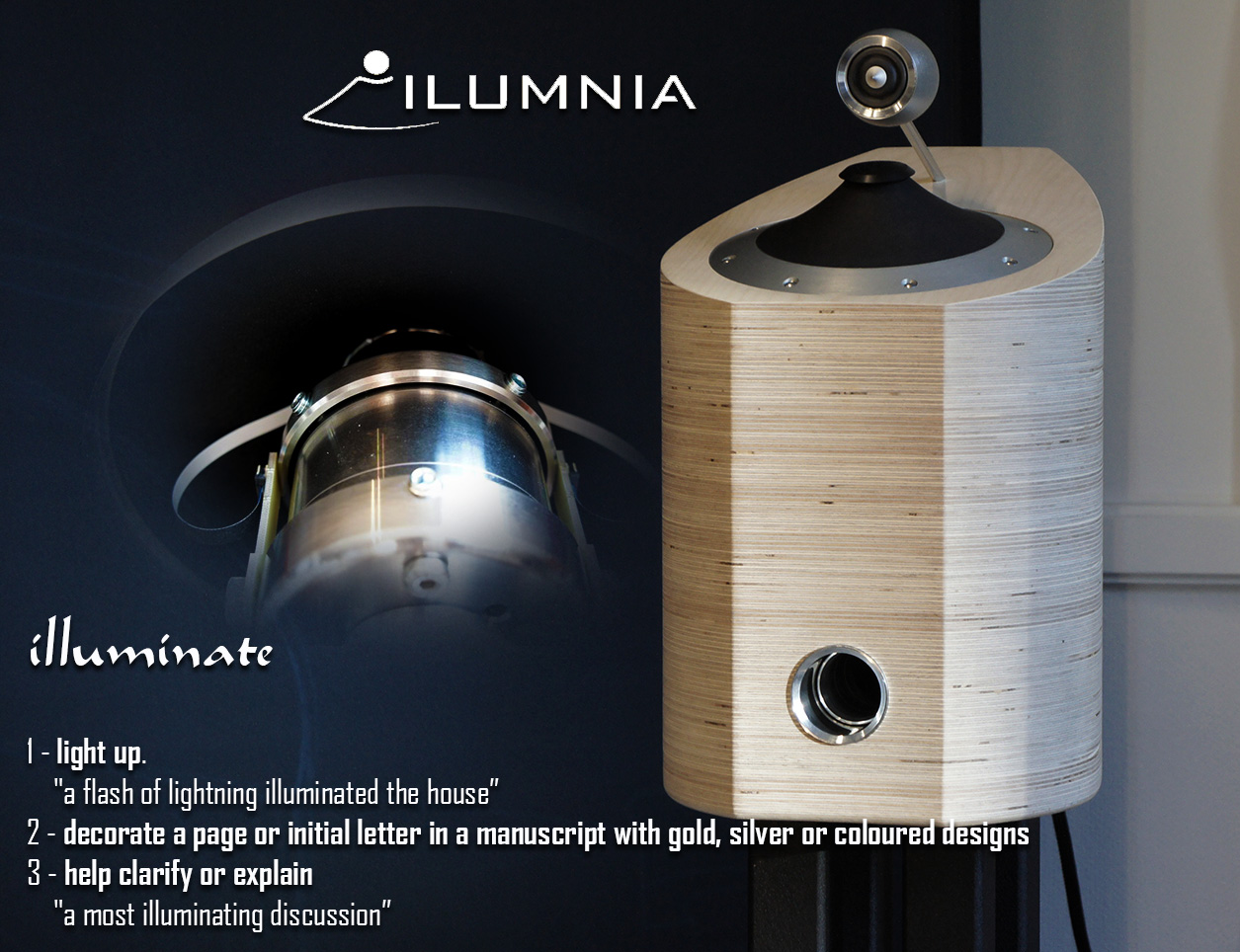 Suspend the suspension. The Ilumnia speakers from Belgian brothers Tom and Jef Nuyts do. As Marja & Henk reported in detail on their floorstanding Magister, they did away with a conventional dynamic driver's surround of butyl rubber, pleated paper, foam or leather. They also eliminated its inner equivalent called a spider. That's typically corrugated impregnated cloth. Here is a video of its operation.
If one asked Leedh's Gilles Milot what's wrong with dynamic drivers, his website would name "a soft iron pole piece in the motor, a foam edge and a spider in the suspension as the three components which produce the majority of defects in traditional speakers". There's also Fertin Acoustic's Model 8 driver which rethinks how to elude limitations of traditional suspensions with its three carbon-fibre stalks. Ditto Cube Audio. Their proprietary widebanders retain the classic surround but replace the conventional spider with a machined phenolic spring. Just so, none of those drive units are perhaps as radical as Ilumnia's inverted pyramidal 8-incher.
Marja & Henk had opportunity to hear an early Vocalis monitor side by side with their Magister loaners. Here's what they said:
"Vocalis was ~80% final. As such we initially intended to listen to it only casually in our downstairs lounge to temporarily replace the Soltanus Virtuoso ESL. Vocalis sat on Target stands Tom had brought for the occasion. Because Vocalis uses their free-floating cone driver, power was desirable. This early version had no adjustable damping. Once connected to the AC, that value was fixed.
"Where Magister was equipped with 3 ports—one fore, two aft—Vocalis only had one at the front, albeit adjustable. Its aluminium port tube sported a felt-clad insert that could be moved to adjust effective port length, hence raise or lower its tuning.
"Aside from fewer ports, Vocalis also lacked aluminium top and bottom plates. In our photo of the Magister and Vocalis side by side, one notices a different top geometry. That of Magister rakes at 9° whereas Vocalis angles at 13°. This gives away the monitor's intended use at closer listening distances. But the photo also shows that Vocalis soon ended up in our main upstairs listening space.
"Why?
"Because of its truly stunning sound quality on our downstairs Devialet D-Premier all-in-one streamer/DAC/amp. Being pre-production, we couldn't be definitive other than think Vocalis a real contender. Whilst being aimed at bigger/smaller rooms and different distances respectively, both models shared the extraordinary characteristics of Ilumnia's free-floating 40Hz-7kHz widebander.
"Usually, monitors are quicker than their fuller floorstanding mates. In the Ilumnia models, this distinction was absent. The only real difference was bandwidth. There Magister pressurized our large space without the help of two Zu Submission subwoofers. To live it up, when we added those to Vocalis, it netted very comparable overall performance but extended even lower."
To recap what Vocalis is, it's a mostly omni-directional near point-source monitor of standard sensitivity whose unique widebander mates to a ScanSpeak Illuminator tweeter in a double-walled bullet chamber hovering above the main driver on a stalk.
The stacked Plywood cabinet—a very laborious construction method abandoned by both Magico and TAD for reasons of cost and difficulty to finish to high standards—contains an active current supply. That creates the Ilumnia driver's electromagnetic suspension via its second voice coil. Note the IEC power inlet in the photo.
As a direct result of the Nuyts brothers' unusual tech, they eliminate two forms of common electrical distortion and one mechanical as suffered by all conventional dynamic drivers. Given how that Marja & Henk's review ended in a most rare Lunar Eclipse award, my ears were ringing from afar. After 20 years of reviewing, this was something I just had to hear for myself. Thankfully Ilumnia would have a second model. We don't put manufacturers through the financial pain of re-issuing loaners just so another writer may indulge his personal curiosity. Then it's simply the luck of the draw who on staff got to hear a particular novelty.
Would you like to download the current image?