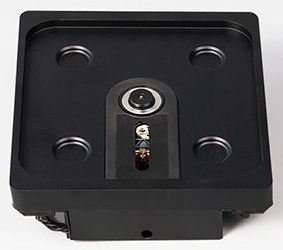 About Jay's: "These photos are of their show room, of their temperature/humidity-controlled store room and of a test in progress on your CDT2-MkII loaner via word-class Audio Precision AP525 test gear. Jacky Ho is the owner and founder of Jay's Audio. He started making digital transports using the CDPro2 LF some 10 years ago. Jacky believes in building equipment with genuinely sourced parts from the likes of RS Components, Farnel, Digikey and Mouser. As such he's probably one of our larger hifi parts importers, hence ventured into selling components for the Chinese market, too.
"It's always been Jacky's contention that, vinyl excluded, standalone digital transports are the best way to reproduce music. His CDT platform has undergone various revisions. Currently, the CDT3-MkII is the flagship, using remaining stock of the CDPro2 LF mechanics and an on-board Rubidium clock. Because Philips stopped production of the CDPro2 LF, the CDT2-MkII as built on their CDM4 mechanism [right] will be the model going forward. It incorporates everything Jacky has learnt over the years and we think is very hard to beat for the price.
"Jacky also believes in investing into serious audio analyzers. All his products undergo comprehensive quality control and AP525 diagnostics prior to shipping." That was Alvin, giving us a quick overview of company and principal. Without their own website, Jay's Audio otherwise remain a hidden player focused on designing and manufacturing digital sources whilst Vinshine Audio act as their global marketing agent. Especially for smaller firms, to have the resident engineer focussed on product design rather than sales & marketing is key. Wearing all the hats delays product development and production by diluting valuable core competency.
Playing "name that hifi" would spot components from Mark Levinson, darTZeel, Soulution and Bowers & Wilkins. Also note the Jheena Lodwick CD in the foreground.
Despite still relative obscurity surrounding the Jay's Audio brand in the West of 2018, these photos suggested a more sizable operation than one might have expected.
The parts storage area alone appeared unexpectedly sizable and well stocked.
Would you like to download the current image?