Reviewer: Srajan Ebaen
Financial interests: click here
Sources: Retina 5K 27" iMac (4GHz quad-core with Turbo boost, 32GB RAM, 3TB FusionDrive, OSX Yosemite. iTunes 14.4), PureMusic 3.02, Qobuz Hifi, Tidal Hifi, Fore Audio DAISy1, COS Engineering D1, Aqua Hifi Formula, AURALiC Vega
Preamplifier: Nagra Classic, Wyred4Sound STP-SE Stage II, COS Engineering D1, Vinnie Rossi LIO (AVT module)
Power & integrated amplifiers: Pass Labs XA30.8; FirstWatt SIT1 monos, F5, F6, F7; Crayon Audio CFA-1.2; Goldmund/Job 225; Aura Note Premier; Wyred4Sound mINT; Nord Acoustics NC500 monos; LinnenberG Audio Liszt monos
Loudspeakers: Audio Physic Codex; Albedo Audio Aptica; EnigmAcoustics Mythology 1; Boenicke Audio W5se; Zu Audio Druid V, VI & Submission; German Physiks HRS-120; Eversound Essence
Cables: Complete loom of Allnic Audio ZL [on loan]; Zu Event; KingRex uArt, Zu and LightHarmonic LightSpeed double-header USB cables; Tombo Trøn S/PDIF; van den Hul AES/EBU; AudioQuest Diamond glass-fibre Toslink; Black Cat Cable redlevel Lupo; Ocellia OCC Silver
Power delivery: Vibex Granada/Alhambra on all source components, Vibex One 11R on amps/sub
Equipment rack: Artesania Audio Exoteryc double-wide 3-tier with optional glass shelves, Exoteryc Krion and glass amp stands [on loan]
Sundry accessories: Acoustic System resonators
Room: 4 x 6m with high gabled beam ceiling opening into 4 x 8m kitchen and 5 x 8m living room, hence no wall behind the listening chairs
Review component retail: SGD 1'998 with free worldwide DHL shipping from Vinshine Audio/Singapore [ca. €1'250 at time of publication]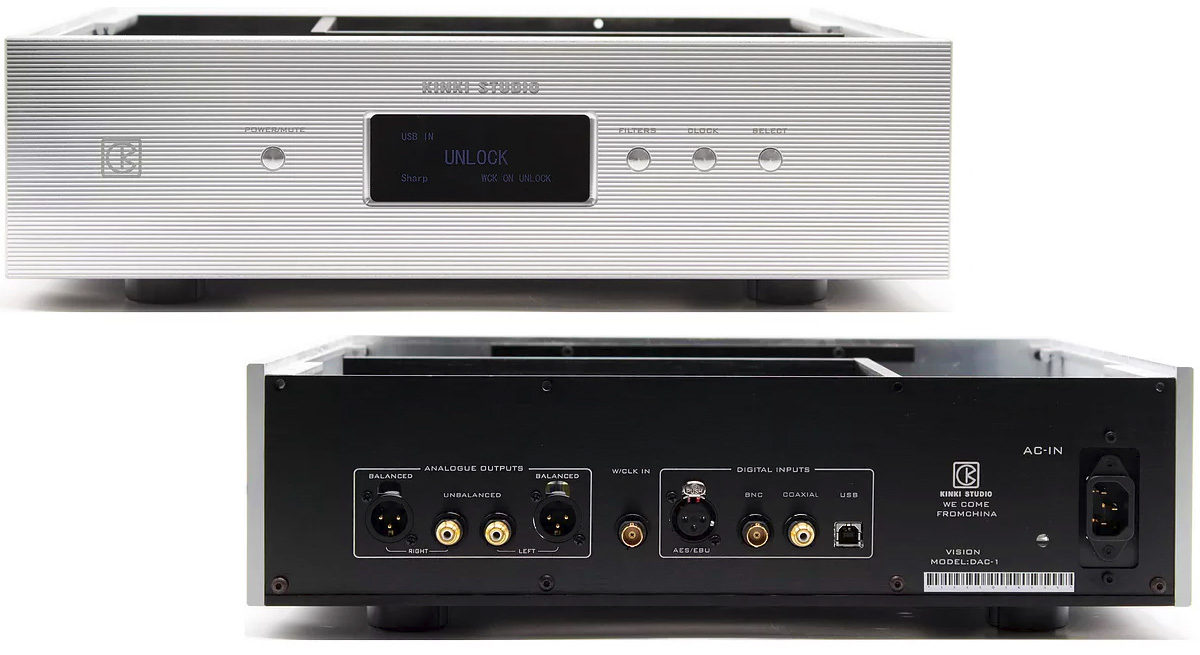 "I'm tempted to send you the Kinki Studio DAC-1 for review. Liu said that he spent a lot of time—nearly a year to be exact—to tune it. He's confident you'll like it. It shares his 'house sound' with the EX-M1 you recently reviewed and awarded. Unlike the Denafrips, it's not R2R so there's no market hype about it. He uses the AKM4495 chip. I interrogated him so to speak and he explained that despite being an off-the-shelf chip, he managed to tune the sound to his exact preference. He believes it's one of the best DACs out there; in his humble opinion of course. The output stage is fully discrete. Perhaps that's how he tuned it? Technically I don't know. I listened to it and agree it's extraordinary. Would you be interested?"
That was Alvin of Singaporean distribution house Vinshine Audio who also handles fellow Chinese high-value brands Denafrips, Jay's Audio and Soundaware. After the EX-M1's victory lap through our systems, what to look at next from his clearly most gifted designer had high schedule priority. As part of Liu's Vision range below his EXtreme series which in mid 2018 also had a headphone amp, the DAC-1's pricing of ~€1'250 (contingent on exchange rate with the SGD) positioned it on Arcam turf, thus far removed from dCS. Given the roaring precedent of Liu's integrated and once again just considering his photos for starters, the Vision DAC-1 too promised a kinky adventure in VR. Here that's short not for virtual reality but value rumble.
Under the sheets, divide & conquer means strict apartheid of power supply and converter/output circuitry. For once the term Chinese wall is no euphemism. Even the twin transformers from the UK's Amplimo ensconce in beefy aluminium bunkers whilst the output 'super modules' tuck into their own custom casings like the Orfeo blocks of Xuanqian Wang's AURALiC products do. And in this price range, spotting a word-clock input isn't exactly twice on Sundays.
What had Alvin's question been, again? Would I be interested? I did him one better. "Send me the Vision THR-1 headphone amp too and let's do this properly."
Would you like to download the current image?