Reviewer: Marja & Henk
Financial Interests: click here
Sources: PS Audio PWT; Dr. Feickert Blackbird MKII/DFA 1o5/Zu DL-103; Phasure XX-PC;
DAC: Phasure NOS1 DAC; T+A DAC8 [loaner]; Mytek Brooklyn DAC [in for review]
Streaming sources: XXHighEnd; iTunes; Devialet AIR; La Rosita Beta; Qobuz Desktop, Tidal Desktop; Sound Galleries SGM 2015 [loaner]
Preamp/integrated/power: Audio Note Meishu with WE 300B (or AVVT, JJ, KR Audio 300B output tubes); dual Devialet D-Premier; PTP Audio Blok 20; Hypex Ncore 1200 based monoblocks; Trafomatic Kaivalya; Trafomatic Reference One; Trafomatic Reference Phono One; Music First Passive Magnetic; Mytek Brooklyn Amp [in for review]; TBAC pre [short loan]
Speakers: Avantgarde Acoustic Duo Omega; Arcadian Audio Pnoe; Podium Sound One; WLM Sub 12; Sounddeco Alpha F3; dual Zu Submission MKI; Soltanus Virtuoso ESL.
Cables: complete loom of ASI LiveLine cables; full loom of Crystal Cable cables; full loom of Nanotec Golden Strada; Audiomica Pearl Consequence interconnect; Audiomica Pebble Consequence;
Power line conditioning: PS Audio Powerplant Premier; PS Audio Humbuster III; IsoTek Evo 3 Syncro; AudioMica Allbit Consequence; PLiXiR BAC3000 [in for review]
Equipment racks: Solid Tech and ASI amplifier and TT shelf
Indispensable accessories: Furutech DeMag; ClearAudio Double Matrix; Franc Audio Ceramic Disc Classic; Shakti Stones; Kemp polarity checker; Akiko Audio Corelli and Phono Booster; Pink Faun LAN Isolator;
Online Music purveyors: qobuz.com, tidal.com, bandcamp.com, amazon.co.uk
Room treatment: Acoustic System International resonators, sugar cubes, diffusers
Room size: ca. 14.50 x 7.50m with a ceiling height of 3.50m, brick walls, wooden flooring upstairs, ca 7 x 5m with a ceiling height of 3.50m, brick walls and concrete floor downstairs.
Price of review item: €1'995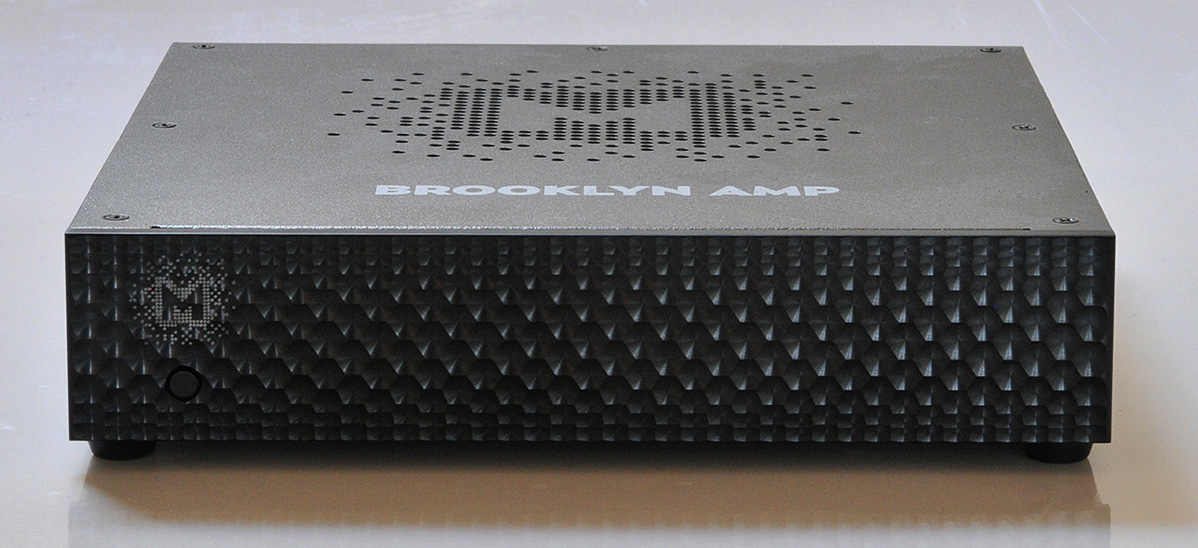 Class D amplifiers have many virtues. They can be powerful, of small footprint, very efficient with low heat dissipation and made in bulk so per-unit cost is competitive. The point of bulk production is the fact that only a handful of OEM manufacturers cater to this market which makes up more than 80% of the appliances sector. Think of devices like car radios, televisions and such. Another portion of the OEM class D market is professional audio. Active speakers and PA systems all benefit from efficient high-power modules. Last but not least comes the high-end part of the business catering to the audiophile.
We have personally watched modules arriving at the Dutch Hypex facilities in bulk from production sites abroad to be quality checked. These were immense amounts of amplifier circuit boards. Faulty modules or modules out of spec simply get tossed for recycling. That's more economical than repairing them.
Would you like to download the current image?