This review first appeared in September 2021 on fairaudio.de. By request of the manufacturer and permission of the author, it is hereby syndicated from the German original to reach a broader English audience. Ed.
Reviewer: Elmar Salmutter
Digital sources: McIntosh MCD301 AC CD player, NAD M50.2 server, MacBook Air with Audirvana
Integrated amplifier: McIntosh MA8900 AC
Loudspeakers: Martin Logan Impression 11A
Cables: Wireworld Eclipse 7, Goldkabel Executive, AudioQuest Coffee USB, Shunyata power cords
Rack: Sold Tech
Review component retail: €6'744/pr, add €890/pr for matching stands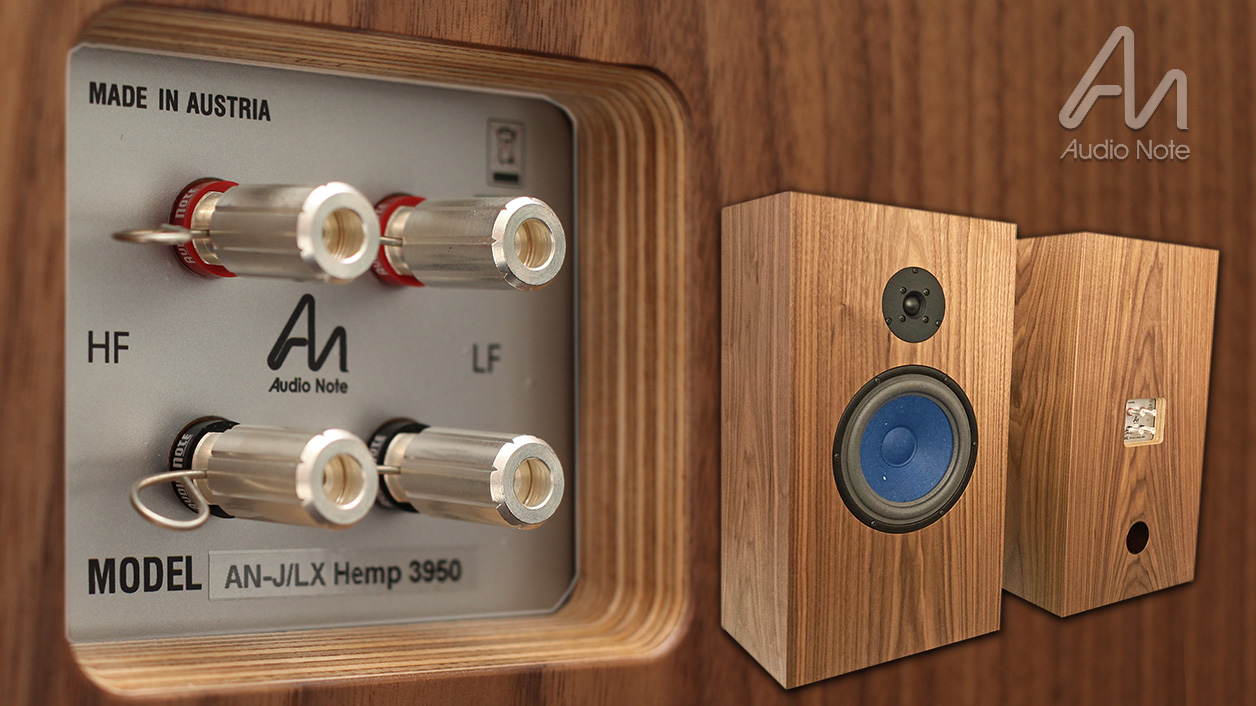 Cult brand happy to stroll down paths less travelled: that's Audio Note. It also describes their AN-J/LX Hemp offered up to us for review by their German distributor. This unusual 2-way's mid/woofer contains hemp. It also hangs a sharp left by being blue. But those aren't the only surprises of this relatively light box in real wood. The pallet drop at my front porch suggested heavy artillery. At 13kg/ea., the actual speaker from South England's Sussex turned out to be a very back-happy bantam weight. Compared to speakers which crash the scale upward of 10 stones, it nearly felt like a featherweight in fact. Too big for a bookshelf, too small as a floorstander, the supplied €890/pr Audio Note J stands solve the riddle and look massive yet still elegant. Really, the heaviest bits off my pallet were the thousands of micro lead spheres to load up the stands. Only so damped will these boxes sound their very best goes the tale.
Enter a hoover and the wisdom of hindsight: deep-pile carpets and minuscule balls don't play together nice. Go ahead, try to retrieve hundreds of pellets from a shaggy rug. Over-eager me shouldn't have reached deep into the bag with one hand but used a proper funnel inside a clean room. Dyson to the rescue so we can wrap up our intro. For already three decades Audio Note have minted fans of nearly religious fervor. They offer the hifi lot from turntables to cartridges, CD players to pre and power amps, digital, cables… and speakers. So yes, one can build a complete front-to-back Audio Note system, even order in parts to DIY or upgrade. Think of things like output transformers, even valves. The latter factor big at Audio Note whose designers yawn at transistors. The valve connection even holds for today's subject in its usefully high 93dB/W/m voltage sensitivity and linear non-critical impedance. In fact, Audio Note claim that the AN-J/LX Hemp aims at triode amps in particular and already gets up on just 7wpc. My system would throw rather more at this easy load via bruiser-class transistors (cough) in a properly American McIntosh MA8900AC. This proved to be a most willing playmate even if the Brits would likely shake their heads at such a marriage.
Blue genie? Unpacking took due note of not just unexpectedly low mass and manageable dimensions of 58.5 x 33 x 23.5cm HxWxD but the flawless finish of the matte walnut veneer. That spelled out real artisanal luxury. Beneath the real-wood skins hides Russian Birch ply whilst 20 veneer choices include cherry, wenge, olive and today's walnut. What's more, many variants can be had in matte or high gloss, the latter obviously for a surcharge. The biwire terminals too look properly posh and massive. Then the eyes note MIA jumpers. That's until they spot a small paper bag containing suspiciously thin metal leads looking for all the world like 1mm sewing needles. Those wouldn't be… yep, no joke, the jumpers. Once we look at the terminals which recess by about a centimeter, we see that said needles must first be bent to fit. Best be thin and pliable then. Black British humor? Not. These are pure silver and with absolute certainty make for superior conductors than the over-dimensioned tin/brass jobs usually thrown in. Granted, a bit speechless I still was to find myself proceed with renewed fingering antics after my scattery lead-shot adventures had come to a close. Oh well.
The next surprise was that, once unpeeled from their cartons, I'd thought that the white occasionally quite large flecks on the blue drivers were some sort of dirt I could brush off. Not. These particles form part of the actual membranes. It looks funky for sure but as they say, better sound sanctifies all. Unbidden, my eyes kept returning to these white disruptors of peace but a few weeks later, I no longer saw them. I did feel adrenaline pumping though when I read this in the owner's manual: "As do all our speakers, the AN-J benefits from scrupulous driver selection and measuring which makes for the tightest pair matching in the entire audio industry." Making it so is "our dynamic matching process. This insures that each speaker in a pair is referenced against a master curve and falls within 0.4dB of its mate." And as per our German importer, only 10% of this model gets ordered with the conventional paper cone. The other 90% smoke weed. Audio Note's Martin Grennall explains: "Technically hemp is only marginally heavier than our standard paper cone but stiffer, particularly our latest generation of smooth hemp diaphragms. Across the midband it's decisively more expressive, less dark and opaque so not as thick. This leads to a more open presentation which sounds truer and more natural." Who doesn't want that?
Would you like to download the current image?