Precedents. Once I'd upgraded my desktop to the impulse-corrected DMAX SC5 speakers then added Singxer's SU-2 bridge and iFi's iPurifier 3 and Mercury 3.0 USB cable, I enjoyed extreme resolution. It's second only to my upstairs Raal-Requisite SR1a ribbon headfi. That kicked off subsequent digs into clock sync. Because I could, I tried both directions. I used Singxer's 10MHz output to slave iFi's Signature DAC to its clock. Then I did the opposite. Running iFi's 10MHz clock output into Singxer's clock input as shown next was my final ticket. The DAC was master not slave.
The difference over no clock sync was higher contrast ratio, increased focus and their net effect of stronger presence. I laid the audibility thereof at the feet of Andrew Startsev's fantastic control monitors below. I remain doubtful that were a traditional passive multi-way crossover to inject its unavoidable phase shift again, this clock-sync advantage would feel as relevant if factor at all. In the system as shown however, it was a worthwhile tweak. Now we're ready to find out what Aether did in clock upgrade not sync mode over our Soundaware. Looking up my original review of the D300Ref, it sold for €2'850 four years to the month ago so close to twice what the Denafrips demands today.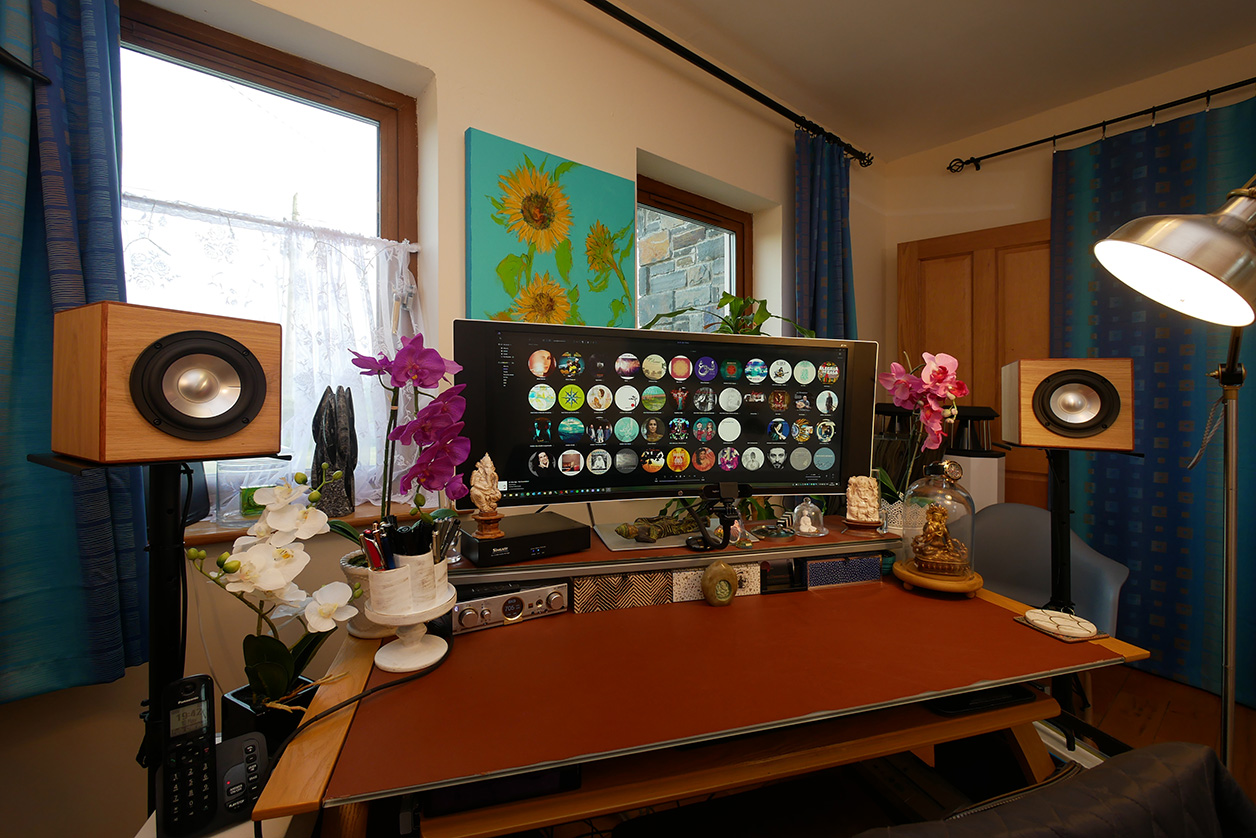 Whether that meant its clocks weren't within range of Aether's upgrade potential…
… or whether an external masterclock in this league simply wasn't a valid idea where singular components go…
… ol' Will dealt me Much Ado About Nothing. Five pages of foreplay fizzled out in a no-show. I couldn't tell a difference be it with headphones or speakers. Given how extra BNC/BNC connections and external cables are more likely to act lossy or suffer minor deviations from the 75Ω standard, perhaps parity was actually impressive? Whatever the case may have been, my personal conclusion is not to bother with this component category with less than two components sharing one clock. My general hunch is that to otherwise benefit requires either far better hearing than mine; far higher overall system resolution; or far worse clocks which could be audibly upgraded by Aether's. I simply had nothing on hand to sync at least two components to the Denafrips frequencies. I'm aware that the dCS Rossini clock is said to substantially upgrade their standalone player; and that Esoteric promote their own masterclock for individual components. With Aether and Soundaware, I simply couldn't connect those dots. I did try. Sometimes that's how it goes…
Would you like to download the current image?