This review page is supported in part by the sponsors whose ad banners are displayed below



• reviewer: Srajan Ebaen & Wojciech Pacula
• financial Interests: click here
• primary system: source -

27" iMac with 3.4GHz quad-core Intel Core i7, 16GB 1.333MHz RAM, 2TB hard disc, 256GB SSD drive, ADM Radeon HD 6970M with 2GB of GDDR5 memory, OSX 10.8.2, PureMusic 1.8

9g & Audirvana 1.4.6, Metrum Hex, AURALiC Vega [on loan], Cambridge Audio iD100, Apple iPod Classic 160GB - preamps - Nagra Jazz

, Esoteric C-03, Bent Audio Tap-X -

amplifiers - First Watt SIT1,

ModWright KWA100SE -

speakers - AudioSolutions Rhapsody 200, Aries Cerat Gladius - cables - c

omplete loom of Zu Audio Event,

KingRex uArt USB cable with Bakoon BPS-02 - equipment support - Artesania Exoteryc double-wide 3-tier with TT glass shelf

,

Rajasthani solid hardwood console for amps, Track Audio speaker stands - powerline conditioning - GigaWatt PF2 on amps, GigaWatt PC-3 SE Evo on front-end components - sundry accessories - extensive use of Acoustic System Resonators, noise filters and phase inverters - room size - 5m x 11.5m W x D, 2.6m ceiling with exposed wooden cross beams every 60cm, plaster over brick walls, suspended wood floor with Tatami-type throw rugs. The listening space opens into the second storey via a staircase and the kitchen/dining room are behind the main listening chair. The latter is thus positioned in the middle of this open floor plan without the usual nearby back wall.
• Desktop system

:

source - Apple iPod Classic 160GB, Cambridge Audio iD100, Aura Vivid - integrated amplifier - Aura Vita - speakers + subwoofer - Gallo Strada 2 + TR-3D on Mapleshade stand, EBTB Terra III, Ardán Audio desktop stand for various review monitors - headphone amps - Aura Vita, Sicphones - headphones - AKG K-702 with ALO Audio harness - cables - Zu Audio Event
• bedside headfi system: source - Apple iPod 160GB Classic, Pure i20, Burson Conductor - headphone amplifier - Bakoon AMP-11R - headphones - ALO Audio-rewired Audez'e LCD-2 and Beyerdynamic T5p - cables - Western Electric & Crystal
• secondary system: source - NuForce Edition Oppo BD93, Sony Bravia TV - preamp - TruLife Audio Athena - amplifier - FirstWatt SIT2 or F5 - speakers - Boenicke Audio B10 - cables - Zu Event - headphone amplifier - Eximus DP1 - headphones - HifiMan HE6 or HE-500, ALO Audio-rewired Sennheiser HD800
• review component retail: $2.995


final rendering

As I'd put it in my Year 2012 Retrospective, my ongoing search for headfi perfidity...er, perfection had hit the amplification mother lode with Bakoon's AMP-11R. At $4.995 with a gorgeously machined mini metal rack, strapping this two-box class AB amplifier of 15wpc to my Audez'e LCD-2 seems overkill. Until you hear it. Whilst the law of diminishing returns kicks in heavy past Burson's $1.850 Conductor—we're well on the limpid side of twice the price, twice the performance—the Bakoon at the time was my ultimate headphone amp. But it's a lot more. Driving speakers copasetic with its power rating has it perform on the rarefied level of Nelson Pass' FirstWatt SIT1/SIT2. Via its voltage-mode inputs. To hear the full Monty will require using Akira Nagai's current-mode inputs. They will enjoy matching outputs in Bakoon's forthcoming DAC of course but just then featured exclusively on Bakoon's EQA-11R phono stage.


Late in 2012, Soo In Chae of Bakoon Korea had told me about a forthcoming 50wpc stereo amp and 200-watt monster monos and another surprise that would hit even sooner: a dedicated headphone amp. "More and more people love the AMP-11R as headphone amp. We thus wanted a more affordable model superior even to the 11R for this specific purpose. With an output impedance close to 2.5MΩ, expect up to 1/10

th

the headphone distortion with the HPA-21's current-mode output. We believe this will be a true game changer. It's a larger one-box solution with internal battery power supply derived from our EQA-11R." With Polish contributor Wojciech equally smitten with the Bakoon integrated on speakers and headphones alike to bestow upon it his rare Red Fingerprint award, anticipation within our ranks over a new Bakoon anything was high.

Whilst Krell and darTZeel exploit current-mode transmission between components as Bakoon does, at the final barrier between amp and speakers they all must return to voltage drive to accommodate our regular multi-way hifi speakers with their reactive crossovers. The lone commercial exception I'm aware of is the FirstWatt F1 from Nelson Pass. Quoting from the F1 concept brief, "... in a power current source, an input voltage causes the amplifier to deliver a proportional output current. Of course this same sort of thing would occur with an ordinary amplifier driving a pure resistance but a loudspeaker circuit is not purely resistive. It possesses numerous reactive elements, some due to inductance and capacitance in the electrical circuit, some from the reaction to motion of the voice coil in a complex mechanical system.


From the HighFidelity.pl review: AMP 11-R and outboard power supply in black


| | |
| --- | --- |
| | "Fed by a voltage amplifier, the current through the driver's voice coil is not directly or instantly proportional to the input to the amplifier. Ordinarily loudspeakers are designed around this assumption but the 'pistonic model' of loudspeaker design assumes that the acoustic output mirrors the acceleration of the voice coil/cone assembly over a specific range. This is reflected by the current through the voice coil. The most precise way to develop that specific current is with a current-source amplifier. Such an amplifier ignores the impedances in series with the circuit, the resistance and inductance of the wire and voice coil and the back electromotive force (EMF) produced by the cone motion. Most speakers are designed around voltage sources but there are a few instances where a current source can be used to advantage. One of the best is the category of full-range high-efficiency drivers." |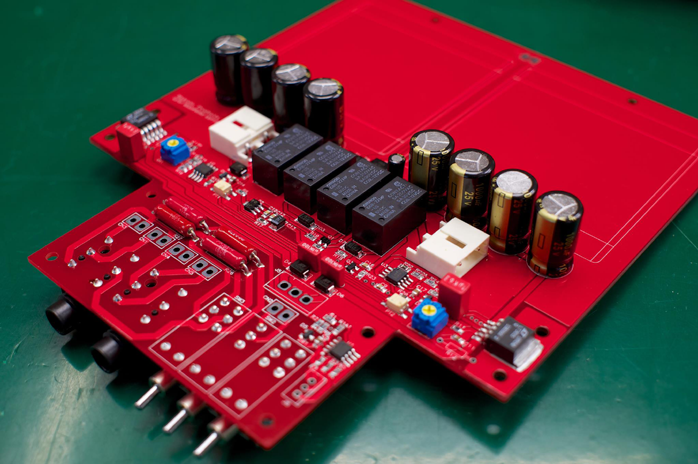 HPA-21 power supply board which sits above the following amplification board on standoffs, open space for the batteries.


That was our cue for today. Once you ask yourself what other loudspeaker is of high efficiency and uses just one driver, you arrive at headphones. Bakoon's HPA-21 thus can apply Akira Nagai's favored current-mode concept directly to the transducers. And since all standard over/around-the-ear headphones use but one driver, the HPA-21 has broader appeal for headfi than the F1 had for loudspeakers where only a very small percentage conforms to its concept.



As my review of the BPS-02 reported, Bakoon already had a clever supply solution which power-cycles two batteries for uninterruptible operation by charging one whilst playing the other. Would the HPA-21's rail voltages—likely higher than the 5V or 6V the BPS-02 puts out—allow for the same? And just how would its single-chassis casing be styled? Soo In had let slip that it wouldn't revisit the AMP-11R's form factor but grow in size yet sport the same exacting industrial design and finish standards.


Two HPA-21 amplification boards populated with parts


The same boards prior to parts population