A picture is worth a thousand words.
Following that ancient logic, hearing actual music must be a million times better than reading about it? Rather than written music reviews, we've thus transitioned to curated playlists on YouTube. Whilst audio quality is naturally limited by compression algorithms, the idea is just to introduce you to artists you may not have heard of before. With Spotify, Qobuz, Tidal and more streaming services, it's then child's play to follow up on any discovery that speaks to you. Which is the entire purpose of these Musical Waves features: to hand you a ticket which you can use for your very own ride to new destinations.
music 15
The fifteenth in a series of YouTube-based playlists: Musical Waves N°15. This one kicks off with Fahir Atakoglu, then features Claude Chalhoub, Andreas Vollenweider, Robert Wolf, Amira Medunjanin & the TronheimSolistene, Çagri Sertel & Çag Erçag, Tanja Tzarovska, Ayfer Vardas, Mirage of Deep, G.E.N.E., Tulku, Prem Joshua, Anoushka Shankar,Nafas, Bustan Abraham, Anouar Brahem and the Taskim Trio with Erkan Kolçac.
Would you like to download the current image?
music 14
The fourteenth in a series of YouTube-based playlists: Musical Waves N°14. This one kicks off with Hayko Cepkin & Burak Malcok, then features Sedef Erçetin & Serkan Alkan, Yuval Ron & Uyanga Bold, Matthieu Saglio, Dorantes, José Antonio Rodgríuez & Jorge Strunz, Antonio Rey, Diego el Cigala, Eddie Daniels, Haris Alexiou & Yamin Levy, Mahsa Vahdat and Mercan Dede.
Would you like to download the current image?
Unifony 2
Unifony I, a collaboration between Dutch multi disciplinarians Minco Eggersma and Theodoor Borger, took the listener on a 12-track musical journey with Matthias Eick on trumpet. Unifony II goes further. For the second installment, Minco and Theodoor asked pianist Aaron Parks and saxophonist Oskar Gudjonsson to join who both agreed after hearing the first album. Aaron was touring Europe at the time to come straight to the studio after his last show. We've followed him since first hearing him in Seattle at age 16. We admire his improvisational talent and his compositions played either as sideman or with his own bands. After some initial explorations, the vibe in the Dutch studio came together for this new project. The right atmosphere soon led to inspired musical cooperation and Aaron improvised on the existing compositions of Minco and Theodoor. This netted the 12 tracks which made it to the final album; but not just yet. First Oskar Gudjonsson too improvised over what had been recorded. He did so from a studio in his native Iceland with his signature soft voice. Gudjonsson isn't a household name outside Iceland but some may know him from the jazz-fusion band Mezzoforte and a trio with Richard Andersson. With the final recordings mixed and added, the tracks were sent to Bob Ludwig for expert mastering. The result is now available for streaming, pressed to CD and high-quality vinyl.
Just like the first Unifony, consecutive tracks form a landscape which invites the listener to let go, ideally with dimmed lights and the volume low. Now multiple layers suffusing all cuts can be enjoyed fully and even make repeat loops interesting. The music doesn't bore but keeps fresh and enticing due to the very relaxed manner in which the album was recorded and produced – no studio time pressure, no schedule pressure, all the needed vintage and new equipment on hand. When playing Unifony I and II back to back, the listener is in for an almost therapeutic mind-cleansing session. That's an advantage for streaming media. When playing the vinyl version, one has to get up now and then to flip the LP. That could break the spell. In any delivery format however, this album is highly recommended and Grimm Audio who contributed hardware rate it very highly on their blog as well. M&H
Would you like to download the current image?
music 13
The thirteenth in a series of YouTube-based playlists: Musical Waves N°13. This one kicks off with Marjan & Mahsa Vahdas and the Kronos Quartet, then features Homajoun Shajarian, Anna Maria Jopek & Branford Marsalsis, Jóhann Jóhannssen, Maya Fridman, The World Quintet, Larsen & Loutchek, The Qotob Trio, Göksel Baktagir, Zsófia Boros, Vassilis Tsabropoulos, Wael Jassar, Mine Gecili, Kamo Seyranyan and Merujan Sargsyan.
Would you like to download the current image?
music 12
The twelveth in a series of YouTube-based playlists: Musical Waves N°12. This one starts with Antonio Rey then features Gerardo Núñez, Juan Manuel Cañizares, Niño Josele, Omar Faruk Tekbilek, Santiago Lara, Tomatito, Vicente Amigo, Juan Carmona, Josemi Carmona, José Antonion Rodríguez, John Amir Haddad and Antonio El Titi.
Would you like to download the current image?
music 11
The eleventh in a series of YouTube-based playlists: Musical Waves N°11. This one starts with Catherine Lara & Juan Carmona, then features Falete, the Kiko Ruiz Quartet, Rafaél Cortez, Joana Jiménez & Miguel Poveda, Vicente Pradal, Arbat, Norig, Talisman, O'Djila, Kal, Cafe Aman Istanbul, George Dalaras, Quadro Nuevo, Khalil Chahine, Robert Wolf and Marius Apostol.
Would you like to download the current image?
music 10
The tenth in a series of YouTube-based playlists: Musical Waves N°10. This one starts with Nasiba Abdullayeva, then features Petar Ralchev, Dominguinhos + Sivuca + Oswaldhino, Elza Soares, Maria Marquez, Mariana Ramos & Angelique Kidjo, the Trio Esperanca, Paula Morelenbaum & Sakamoto, Nancy Vieira, Stéphane Fernandez & Mario Canonge and Andy Narell.
Would you like to download the current image?
music 9
The ninth in a series of YouTube-based playlists: Musical Waves N°9. This one starts with Tefilo Chantre, then features El Hadj N'Diaye, Geoffrey Gurrumul Yunupingu, Coco Mbassi, Dobet Gnahore, Idrissa Diop & Ralph Thamar, Emeline Michel, Bobi Céspedes, Razia, Orchestra Baobab, Soumaya Baalbaki and Toufic Farroukh.
Would you like to download the current image?
music 8
The eighth in a series of YouTube-based playlists: Musical Waves N°8. This one starts with Mediterráneo, then features Cheikh Lô, Salif Keita, Khadja Nin, the Rundek Cargo Trio, Anoushka Shankar, A.R.Rahman & the Berklee Ensemble, Mariza & Tito Paris, Sevda Alekperzadeh, José Mercé & Pablo Alborán, India Martinez, Homayoun Shajarian, Natasha Atlas, Ibrahim Tatlises, Duke Bojadziev, Etnosfera and Mari Samuelsen.
Would you like to download the current image?
music 7
The seventh in a series of YouTube-based playlists: Musical Waves N°7. This one starts with Djelem, then features Pierre Bluteau & Pascal de Loutchek, Joscho Stephan + Richard Smith + Rory Hoffmann, Louis Winsberg + Antonio El Titi + Rocky Gresset, Bratsch, Nedim Nalbantoglu & Roberto de Brasov, Romane & Stochelo Rosenberg, Marius Apostol & Angelo Debarre, Robin Nolan, Bilal Karamam and the Dan Gharibian Trio.
Would you like to download the current image?
music 6
The sixth in a series of YouTube-based playlists: Musical Waves N°6. This one starts with Julia Boutros, then features Cag Ercag, Patrick Chartol, Mamak Khadem, Sezen Aksu, Yasmin Levy, Kol Simcha, Asita Hamidi, Bilal Karamam, Arto Tuncboyaciyan, Funda Arar, Volkan Konak, Rubato and Homayoun Shajarian.
Would you like to download the current image?
music 5
The fifth in a series of YouTube-based playlists: Musical Waves N°5. This one starts with Brazilian sambista Alcione, then features Strunz & Farah, George Dalaras, Haris Alexiou, Giannis Parios, Jagjit Singh, Jordi Bonell, Louis Winsberg, Eddie Daniels, Romane, Frédéric Manoukain, the John Jorgenson Quintet and Corlulu Savas.
Would you like to download the current image?
music 4
The fourth in a series of YouTube-based playlists: Musical Waves N°4. This one kicks off with Robert Miles & Trilok Gurtu, then features Hector Zazou & Swara, Maneesh de Moor & Prem Joshua, Michael Brook, Mercan Dede, Bombay Dub Orchestra, Bob Holroyd, Burak Malcok, Erkan Ogur, Fahir Atakoglu, Yildiran Güz, Aytac Dogan and Jai Uttal.
Would you like to download the current image?
music 3
The third in a series of YouTube-based playlists: Musical Waves N°3. This one kicks off with Brian Keane & Omar Faruk Tekbilek, then features Amr Diab, Mohamed Rouane, Adnan Joubran, Dhafer Youssef, Karim Baggili, Wael Jassar, Abed Azrié, Omar Bashir, Jamshied Sharifi, Titi Robin, Ofra Haza, Vassilis Saleas & Chico and the Gypsies.
Would you like to download the current image?
music 2
The second in a series of YouTube-based playlists: Musical Waves N°2. This begins with Oliver Dragojevic, then features Sevda Alekperzadeh, Sevara Nazarkhan, Joscho Stephan, G.E.N.E., Randy Tico, Indialucía, Miguel Poveda, Alba Molina, Diego El Cigala & Mercedes Sosa, Curandero, Sary & Ayad Khalife, Martin Tillman and Amir John Haddad.
Would you like to download the current image?
music 1
The first in a series of YouTube-based playlists: Musical Waves N°1. This one kicks of with the Taksim Trio, then features Vicente Amigo, Alim Qasimov, Adel Shalaby, Estas Tonne, Fazil Say, Khalil Chahine, El Cigala, Aymee Nuviola, Alain Pérez and Rahat Fateh Ali Khan.
Would you like to download the current image?
In a sentimental mood
The absolute fun part of visiting an audio show is not just meeting new like-minded people. It's discovering new music. There's so much of it 'out there' but how to meet it? In the olden days we had pirate radio stations. Those often played wicked music without any control from record companies to simply explore the musical tastes of a DJ working under a nome du guerre. Pirate radio stations were illegal and one's own enjoyment didn't override that harsh fact.
At the 2019 Warsaw show we entered a room whose Tascam open-reel deck was its pièce the resistance. Well, the visible piece. Aurally there was more and it was a Hammond B3 that first announced itself. Next a very live a drum kit entered which we really enjoyed. Once we learnt that the album was available on vinyl, we and the record were sold. Back home we dug into this live-in-the-studio affair called In a sentimental Mood featuring Polish jazz legends Wojtek Karolak on organ, Adam Czerwinski on drums, Tomak Grzegorski on tenor sax, Robert Majewski on flügelhorn and Marcin Wadolowski on guitars. This limited 500-piece edition on heavy pristine vinyl pressed by DMS in Plymouth again had the same effect on us as it did in Warsaw. Eight tracks alternate Duke Ellington and Sonny Rollins standards with Polish originals. This combo makes for interest throughout to transcend yet another standards collection.
The actual recording was made in Gdansk while the equipment was a selection of the finest all-analog gear still kicking. Such productions create exciting timing and tuning. From Gdansk the master tapes shipped to Abbey Road where not only mastering but DMM copper cutting took place which led to high-quality pressings. Bravo for a true audiophile recording that's not just the sonic goods but of truly fine music which happens to be recorded as it should, mastered as it should and pressed as it should. ACRECORDS.PL ACR 009. M&H
Would you like to download the current image?
Grooveberek
After acquiring In a Sentimental Mood, we were gifted with another ACrecords called Grooveberek, of the MAP trio playing with Krzesimir Debski. The MAP are Marcin Wadollowski on guitars, Adam Czerwinski on drums and Piotr Lemanczyk on bass. Guest Krzesimir Debski took care of violin, Fender piano and some vocals. After In a Sentimental Mood, our hopes were high to hear another interesting plus well recorded, mastered and pressed outing. Again the recording studio was in Gdansk, the mastering from Abbey Road Studios and the pressing on 180-gram vinyl. Alas, our disillusion couldn't have been greater playing this back at home. No matter how carefully made, processed and pressed, we cannot stand a recording that has one of its participants play out of tune. Mind you, that's not just one off-pitch note to remind us that it's not robots but humans playing. It's on every track where this player figures. The guilty party here was violinist Krzesimir who in our opinion makes the album unbearable to listen to. How could this have slipped through the cracks? M&H
Marja & Henk forwarded me one track for a second opinion. I heard the same. It reminded me of a Gary Karr track where the bassist plays some Albioni or Pachebel. It's been a staple of audio show demos. Each time I hear it, I bolt from the room. The man is so sorrily out of tune. Yet everyone else sits there transfixed in their seats following poor musicianship. Apparently pitch sensitivity between listeners varies widely.
Would you like to download the current image?
Concerto em Lisboa
Mariza. Concerto em Lisboa. You had to be there. You had to be. Sometimes a song is more than just the words. To have a song that resonates with a nation's soul is special. Mariza. Sings Fado. Fado is described as the soul music of Portugal, full of references to the glory of the homeland, the beauty of Lisboa, with a lot of it poetry by the nation's brightest poets. They are deeply attached to both their land (terra) and, as a historically significant seafaring nation, the sea (o mar). Mariza sang Fado in her father's bar in the Alfama district of Lisbon. Then in 2001 out came her version of "O gente da minha terra" written by the original queen of Fado, Amalia Rodrigues. The lyrics are:
"O people of my land, it's only now that I perceive, this sadness that I carry, was from you received.
This ballad is both yours and mine, united by our destiny no matter how much is denied, by the strings of the guitar.
Whenever we hear a lament of a guitar playing, we are soon filled with a longing to weep.
It would be a kindness if I were able to soothe it, and by releasing the sorrow, make my song less melancholy."
So here we have a diva addressing her people but at the same time, including them. She is them. Terra is not just 'land' but basic 'earth' as well. Oh people of the earth? Appealing to the inherent melancholy of the Portuguese nature is the saudade of Portugal. Her version of the song was a world-wide success and Mariza spent several years touring the world. She's unsurprisingly popular despite not singing in English as she is a beautiful, tall dramatic presence on stage with a very emotional way of singing. (Rumour has it that an A+R man said 'she'll never make it unless she sings in English.' Decca turning down the Beatles springs to mind?) Then in 2006 she put on a huge concert in the open air in Lisbon – Concerto em Lisboa, available on DVD as well. The 'return' of the singer who represented the soul of the country? When she sang "O gente", the emotion was understandably tremendous. In tears she dramatically ended the concert to ecstatic applause from her audience. Oh people of my land, this sadness was from you received. Such drama and soul. – Christopher Skelton
Would you like to download the current image?
The other side
As one of the most lyrical pianists on the circuit, Tord Gustavsen's The Other Side returns him to celebrated trio form after an 11-year hiatus from that particular format. Regular drummer Jarle Vespestad joins him with bassist Sigurd Hole and though this outing features the piano on some dense chordal work, the majority of numbers reconnect us with the moody melodic minimalism of the first three Gustavsen Trio efforts. This latest one features three meditations on J.S. Bach scores, makeovers of traditional songs and originals by the Norwegian pianist/composer. It covers hymnal church ground, dreamy exploratory Jazz and processional balladic elements with the occasional fractal deconstructionism. With its shifting conversations, the ensemble's interplay draws us listeners into their virtually psychic mind meld. As the album title suggests, this is about moving over to the other side where things are simpler, more beautiful, more intrinsically connected and multi-dimensional. The 'method' to crossing that bridge is a gently probing questioning attitude or feeling-inquiry just like this music embodies, demonstrates and invites. Glorious graceful stuff!
Would you like to download the current image?
Sounds of Mirrors
Sounds of Mirrors combines the singer/oudist Dhafer Youssef with Zakir Hussain on tablas, Hüsnü Senlendirici on clarinet and Eivin Aaeset on guitar. It catches up the Tunisian with an Indian music encounter he had as a 19-year old when studying classical music in Vienna. Ever since he'd dreamt of one day playing with one of India's maestros. Whilst touring France nine albums later, he invited Zakir on stage to sign up his first contributor for this latest album. The Turkish clarinetist whom he'd played with before came next to add the sinuous timbre of a wind instrument, thus creating a classic formation like Hüsnü's Taksim Trio or Anouar Brahem's trio on Astrakan Café which featured Barbaros Erköse on clarinet and Lassad Hosni on bendir and darbouka. But Sounds of Mirrors goes one more and ties it all together with the ethereal synth-type vibes of the Norwegian Jazz guitarist to create a work that "felt to me like an ode to friendship and fraternity" explains Dhafer. "When we were playing together, I could feel quite distinctly that we were as kindred spirits mirroring each other. Hence the name of the album, Sounds of Mirrors." Without obscuring Dhafer's unmistakable talent for lively odd-metered grooves, the majority of Mirrors is contemplative, dreamy and spacy. It showcases the wisdom of maturity which always manages to say more with less and less. By doing away with the piano of Dhafer's prior formations, Mirrors by necessity focuses on melody and rhythm over harmony. That naturally closes the circle with the milieu of Indian music which stylistically remains otherwise in the background though Eivin's standing chords mimic its drones. It's contemplative world music magic between Tunisia, Norway, Turkey and India to truly transcend cultural borders.
Would you like to download the current image?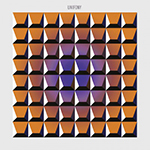 unifony
In these fast-paced times, most recordings are rushed. Studio time is costly and limited so artists spend as little time there as possible. That a group of musicians spend time together in a studio is even rarer. Instead of vis-à-vis interaction, most tracks are recorded at various places and times. All recorded material is later mixed and assembled. In that process there is the possibility to fix things. Loudness, timing, tuning and—if you are lucky phase—get matched to get one coherent result. Technically there is nothing wrong with this approach. It is efficient on all fronts. But something still has to give. In this case it is the musical emotion. You either play your part in your own little cocoon by yourself; or with another musician. The result is quite different especially when musicians have chemistry.
UNIFONY is a musical collaboration between two Dutch multi-disciplinarians. Minco Eggersman and Theodoor Borger are musicians, producers and composers while Theodoor adds being a sound engineer and studio owner. It was in that studio, fully equipped and with a cozy atmosphere, that this project came to life. They wanted to make music in a relaxed and creative way not based on compositions but layers of sound. And the influence of electronics on the recording chain should be zero, i.e. the musicians should not worry about settings and gear choice. For that no-worry condition, Grimm Audio stepped in as sponsor. With that settled, there was only left the addition of a third musician – Norwegian trumpeter Matthias Eick. Now you get why we were even more interested.
After the recording sessions were finished and roughly mixed, there was mutual satisfaction and appreciation. Still, a little thing nagged Minco. The recording was made in the old-fashioned 80s' way where one of Minco's favorite sound engineers is the now retired Phill Brown. So he contacted his hero to check their recording. Mr. Brown agreed and invited Minco and Theodoor to Miloco Studios in London where he added his own magic. Minco and Theodoor were on the 7th moon with the result. Then came mastering. With the endorsement of Phill Brown temporarily returned from retirement for this project, it was no wonder that Bob Ludwig was prepared to step in for the final process. When James Marsh designed the artwork, the project was done. UNIFONY is not only spiked with big names, it is also a very musical endeavor. Twelve tracks take the listener on an aural flight through beautiful soundscapes. Steady rhythms keep the voyager alert, keyboard accents and drones act as coloured waves and Matthias Eick's sometimes eerie trumpet meanders trough the illusory picture. This is not the next ambient project full of electronica. This is music from the heart; lyrical and emotional. M&H
Would you like to download the current image?
Lullabies
Lullabies From The Axis Of Evil is a clever if also bracing title for an album from the classy Norwegian label Kirkelig Kulturverksted, home of audiophile diva Kari Bremnes. What has George W. Bush's geopolitical term and implicit condemnation of certain nations to do with a wonderful compilation of down-tempo songs which feature vocalists from Lila Downs and Nina Hagen to Rim Banna and Sevara Nazarkhan, from Kari Bremnes to Shofani Jawaher, Rickie Lee Jones and more? It's likely because of where these tunes and some of their singers are from. All the more reason to listen in and crash cultural divisions. If one does, what reveals itself is a strong collection of exotic voices in surprisingly modern settings including far-out backdrops like the National Cathedral Girls Choristers underpinned by massive bass beats. Like Sting's famous "if the Russians love their children too" refrain, Lullabies reminds us that a mother's love for her child cares nothing for class, caste, culture or religion. It's universal. And this album celebrates a few musical facets of that. Go back in time when you were a toddler. Let these women sing you to sleep. It sure beats getting yelled at by some Heavy Metal rocker on acid.
Would you like to download the current image?
Mayte Martin
Tempo Rubato by Spanish cantaora Mayte Martín wears its weeping heart on the sleeves of the classical string quartet Quitxote plus guitar and cajon, with truly iridescent arrangements by maestro Joan Albert Amargós. As a concept, it recalls Miguel Poveda's songs with full symphonic accompaniment which themselves were presaged by Camarón de la Isla's exploratory crossover experiments. Tempo Rubato combines Flamenco's cante stylings with the aesthetic of South-American boleros and cancíons. The latter's profound sweetness recall the legendary Mercedes Sosa. Like the magnolia fragrance appearing in "Gacela del Amor Imprevisto", this perfume of sweetness permeates the entire album. The unexpected overlay of Spanish vocals on a string quartet also transforms the latter's high-brow formality into a more contemporary salon vibe similar to how the Argentine tango orchestra took the same stringed timbres to the bordello and nightclub. Many audiophiles adore female vocals recorded well to often look in the Jazz milieu. For a change of pace, they might tune into the unapologetically gorgeous Tempo Rubato and not only make their hifis shine but also tune up those rusty heart strings…
Would you like to download the current image?
Javier Limon
Javier Limón's Refugio Del Sonido is a solid 3:06 hours or 49 tracks worth of purely instrumental music with a cross section that puts the focus on soloing flügelhorn, cello, violin, guitar, Brazilian clarinet, piano, recorder and more whilst powerful low electric bass and heavy drums lock down modern grooves or shift gear into sophisticated club Jazz far away from experimental abstraction. As producer of albums like Mujeres de Agua—an eclectic collection of world music divas from Eleftheria Arvanitaki to Aynur, Mariza to Montse Cortés—and Promeses de Tierra plus work with Buika and other mostly Spanish musicians, Javier Limón acts as ambassador for gifted artists who deserve broader exposure. Refugio in particular seems dedicated to shining such a spot light on quite a roster of mostly unfamiliar collaborators. The result are terrific high-contrast tunes across an unexpectedly broad swatch of styles and geographical markers. And this Refuge of Sound is a fabulously generous affair on length, being essentially three albums in one.
Would you like to download the current image?
Would you like to download the current image?