This review page is supported in part by the sponsors whose ad banners are displayed below

Here's a due interlude of tail of cock before we return to our regular hifi programming.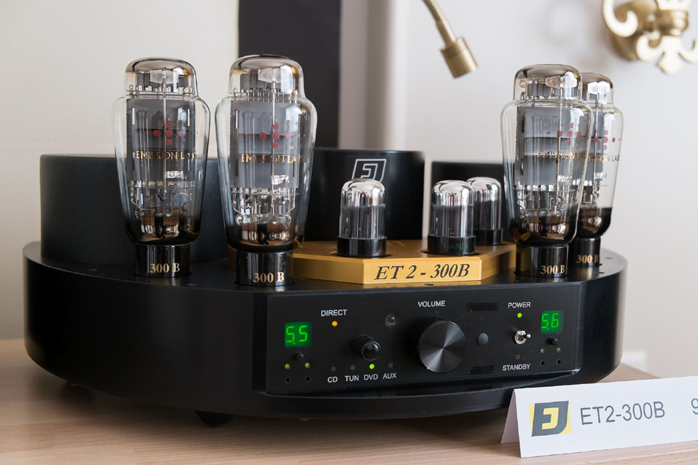 Eternity Joe is a Swiss valve electronics house whose name I'd not come across prior to the announcement for this event.
They support both triodes and pentodes.



Klangwerk's active speakers demmed with Weiss as is longstanding tradition. For those who insist that audio is about complex and unsightly contraptions, this minimalist rig of Weiss server, pert active floorstanders and an active sub disguised as console would prove the exception.



Klangwerk even has on/inwalls to take their concept all the way.



Nagra's now christened HD DAC—after the refreshingly named Jazz and Melody the conservatives at Nagra clearly put their foot down—played with Stenheim's Alumine monitors though the production DAC chassis was still empty and the guts housed in another box. As their Matthieu Latour explained, the software menu allows adjustment of the output voltage in various fixed values to gain-match a system. Otherwise the DAC can operate in remote-controlled variable mode with a proper analog attenuator for amp-direct drive. A fully discrete headphone amplifier is also associated with this volume control and it too can be configured for various gain modes. My earlier project background has the fuller story.



Officina Tron Audio is a purveyor of valve gear and kits operating out of Switzerland - another brand new to me until now.



Clearly the DIY spirit is alive no matter what country you live in.



From what I can tell, Rowen is an exclusively Swiss brand, i.e. no or seriously limited export to elsewhere.



They make electronics, a turntable and loudspeakers.



At shows past I'd inquired about review loaners but the company understandably had no interest. They're happy just serving the domestic market.



As they do in their home office which I visited a few years back, Soulution was wired up with Swiss Vovox wire to drive properly manly speakers to fit their electronics.



Here owner Cyrill Hammer explained the ins'n'outs of Soulution ownership to a prospective shopper.



soundkaos had valve gear from Eternity Joe, transistors and valves and vinyl from Holborne and...



... valves from Colotube and digital from Weiss for front-to-back White Cross systems. Unless memory tricks me, the soundkaos sub in this photos seems shrunk by a few ribs from what I saw in Munich half a year earlier. Holborne is currently revamping their lineup. Once that's settled expect a review to introduce these interesting electronics to our readers.



The big Stenheims from organizer Jean-Pascal drove with freshly squeezed Le Son juice for an all Swiss system, cabling again by Vovox. Le Son is a very ambitious new CH firm I'd profiled in brief in my Munich 2013 show report. Their industrial designer also contributes to Stenheim. Hifi is a small pond.



Against their and Stenheim's ultra-modern decor and concept, the folks at Swissonor clearly uphold the opposing vintage aesthetic. That means vinyl, valves and dual-concentric high-efficiency often corner-loaded speakers.



And closing out our pictorial tour with W for Weiss, the lines between pro and consumer blurred just as they should.



Or as Jean-Pascal put it, "all 18 Swiss audio manufacturers were satisfied by the event's concept and most of the visitors appreciated the 'epicurean' atmosphere. In a few words: we'll be back!" Arnold squared. Bravo. The more we blur the lines which separate us hardboiled audiophiles from the 'normies', the better. Sons & Sens was an attempt to do exactly that - run an audio show differently from how the Germanic team of HighEnd envision and do it in Munich and Zürich. If Nagra's Matthieu Latour had his guess right, about 500 visitors attended. With more and earlier promotion to know about it, hopefully more will participate next year. And that was precisely the purpose of this in-absentia report - to let our readers know Sons & Sens took place and will again.


To close on a silly note, wanna abuse your treasured vinyl with a proper needle? As this show clearly knew, gentle does it when enticing others to participate in our hobby. Nobody likes being needled or downright abused...