This review page is supported in part by the sponsors whose ad banners are displayed below
At the doorstep of the Jan Sobieski hotel we met Wojciech Pacula and exchanged preliminary impressions on the show. Wojciech had even less time than we did to do his rounds but he found some to take the picture of us featured earlier before he had to move on. This guy is really hard working. Following our planned strategy of how to deal with the 18-hour time frame and roughly another 67 rooms to visit, we quickly went to the top floor so we could work our way downstairs not having to wait for the elevator.



In the first room played a set of Dome Phase Poison loudspeakers in combination with Cayin electronics. The inverted coaxial geometry looks very different from classic coaxial drivers but the sound was just as focused even though the speakers telegraphed their position a bit too strongly in our opinion. Nevertheless the concept is well worth future investigation.



In the show announcements we'd read about a full Kondo system and looked forward to such a unique opportunity. Over time we have listened to quite a few Kondo components but never to a complete set. In the darkened room with strong LED spotlights we spotted the Kondo M-1000 preamp and even GakuOn II 211-based power amps dwarfed by the enormous Ginga turntable with Omega arm and IO cartridge.



Unfortunately the set was not completely Kondo. In transit the loudspeakers got damaged so distributor Wojtek Szemis pictured below with the lovely Ola had to find a quick alternative. He happened upon a pair of available vintage Snell fit enough to match. This rare combination of Kondo components was made possible by Wojtek customers who lent him products for the show. Many will emphasize the sheer cost of the set—some two million Zloty in fact—but the late Hiroyasu Kondo wanted only the best so that it wouldn't be about just reproduced sounds but the emotional feelings encoded as he explained in a 2007 interview with Jonathan Scull. Imaging and other audiophile attributes are of no importance. Emotion is.



Kondo-San was perhaps the instigator of reproduced music as an art form rather than as the pursuit of a live event in the home since he did not believe that all the qualities which make up a live event can even be reproduced in the first place. Instead he focused on conveying emotions. These Kondo components are handmade by just a few highly skilled, patient and dedicated workers from all in-house parts except for the tubes. It was a great pleasure to listen to this unique system that was not boasting but just let the music flow.



Studio 16Hz Aurum II loudspeakers from Poland were driven by a Russian Aleks Audio Fantini GM-705E amplifier. In a room full of diffusers and a hobbyist atmosphere the music played clearly had the visitors spell-bound by the looks on their faces.



Polish brand Sound Art demonstrated their new and unique-looking CD player Sarah F8 and the new 100wpc Rock amplifier. The Sarah is of the top-loading variety with a separate enclosure for the transport. Under the table sat the Jazz integrated amplifier rated at 200wpc.



Guru QM10two with Monolith Audio separates demonstrated that a small footprint does not (have to) mean a small sound.



Tri electronics like the TRV-CD4SE CD player and TRV-88SE integrated combined with Avcon Nortes loudspeakers. The 45kg 3-way Nortes is rear ported and built from 25 and 50mm MDF in Poland. A fairly large ribbon tweeter picks up at 2kHz. The loudspeaker on the heavy stand was Avcon's flagship, the Avalanche Reference Monitor. Like all Avcon loudspeakers the cabinets are dense and solid to counter interferences from the woofers and they all commission a ribbon tweeter for the high frequencies. Music of choice here was a fair dose of punk rock.



The already familiar braille-like diffuser panels were present also in the next room where Octave and Ayon electronics matched up with Dynaudio C1 to get decent sound.



More Dynaudio would come in the next room where...



...white once again was the new black as has been true for some time now. Shown here was the Xeo series of wireless loudspeakers - well, wireless except for power cords.



Airphone audio was present with a variety of cans which could be sampled just like the accompanying sources. Here some Phiaton headphones were ready to be listened to.



Yet another Polish company unknown to us was Mach Audio. They have worked the pro arena for some 20 years already and demonstrated in Warsaw with the Mach integrated amplifier simply called Mach. The amp delivers 40wpc in Class A and comes in black and white.



Professional audio in the home probably was the mantra of MK Sound's distributor who showed models of the American loudspeaker manufacturer usable in a home setting. With stands that did not hide their pro roots, the combination which included an Integra Blu Ray player and amplification matched up nicely. The white Fujitsu Eclipse TD speakers are another product represented by this distributor.



It's fun to stay at the YMCA as they say but we enjoyed the DIY room where the konstrukcje amatorskie were playing. Every possible equipment category had samples present. Preamplifier – check, loudspeaker – check, DAC – check, transport – check, turntable – check, OTL/CL monoblocks – check, diffusers & room tuning – check. Of course adjustments and tweaking were ongoing and the room was full of discussions. The music we heard sounded really good and we were awed by the build ingenuity and quality.



Pylon Audio is yet another Polish loudspeaker manufacturer. On demo were the Topaz 15 (the blond ones) and Topaz 20. The smaller 15 meant for rooms of about 25m² offers 85dB sensitivity in a 16kg package. Eighteen kilos do it for the Topaz 20 which offers 7Hz greater bass extension to 38Hz due to its 20cm woofer. Pylon not only builds their own cabinets but also drivers.



Dragon Audio loudspeakers and Dynavox electronics are both very budget friendly as the price tags showed but saving up for alternatives is still recommended.



The Polish Ortofon distributor demonstrated various arms and cartridges and how to set them up correctly on the big Divaldi turntable. Power amplification was performed by two beautiful Ancient Audio Single Six 6C33S-based monoblocks.



Vinyl was again the main source of the next room. An Acoustic Solid turntable sported a Nagaoka MP-500 cartridge. Amplification and digital input were in the hands of Plinius gear and at the end of the Enerr Equilibrium loudspeaker cables sat a pair of Sonus Faber Cremona. Source material was also on sale in the room with the tab audiofilskie saying it all.



Atoll amplification and source were fed via Enerr ACpoint and Equilibrium cables. After that it was just playing CDs.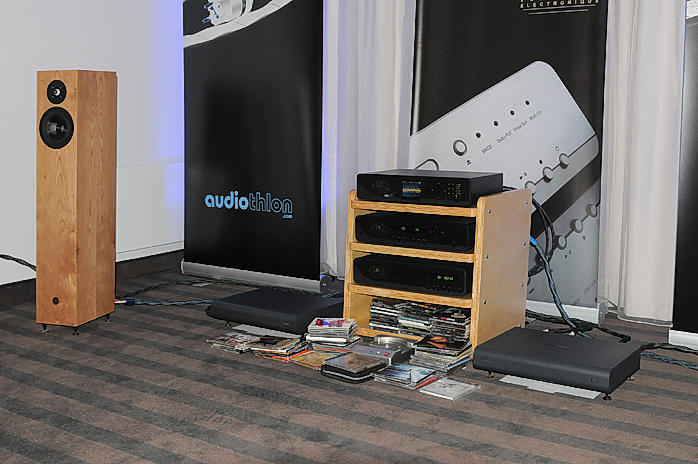 Abyssound demonstrated their ASX 2000 80wpc power amplifier. The 60kg Class A design uses 40 transistors and its designers paid a lot of attention to the power supply. A proprietary bi-quartet voltage amplifier forms the heart of the circuit. Speakers were Polish Harpia Acoustics 300B Grand. This is a 3-way bass reflex with dedicated left and right cabinets. The manufacturer states a 94dB sensitivity rating possibly to indicate 300B happiness as hinted at by the name and a frequency response of 35 – 25000Hz +/- 3dB.



A familiar face happened upon us in the next room. Koen Vaessen had flown in from Belgium together with former Polish resident but original Dutchman Noël Coquet and his latest drop/egg-shaped speaker Galaxy Ultimate. This design uses a Raal ribbon and Thiele & Partners ceramic cone for high and mid frequency response while the subwoofer stand can have its port either out the bottom or back. We spent quite some time in this room at the cost of losing our demo compilation CD to Koen. New Dutch brand Love Cables was responsible for all electric signal transmissions between the wall outlets, Perreaux and Mytek gear and loudspeakers.



Amare Musica honored its name with a cozily decorated room and lots of CDs spread around the equipment rack. Polish Amare Musica not only loves music but tubes. Their shiny Trinity monoblocks are built around the 300B and the preamp is a classy EML30A design named De Forest. Tubes of choice are obviously from Emission Labs. The loudspeakers were prototypes named Clockwork and the CD transport was an MBL 1531.



A pair of 2.5-way Gato Audio FM-6 loudspeakers combined with the matching Gato Audio CDD-1 top-loading CD player/DAC and 150wpc Amp-150 integrated in the next room. Clean and simple, the industrial design softly shouted 'made in Denmark'.



A simple Pro-Ject 10 Evo turntable, a mini stack of Box Design RS electronics and a pair of Triangle Comete stand-mount speakers made up a basic, affordable and remarkably pleasant-sounding rig. Where many small systems tend to sound small too, this one did not. Equipped with a few ECC82 tubes ahead of its PWM stage, the amplifier is rated at no less than 110wpc which can be boosted up with a bigger external power supply. The tubes without doubt added a lot to the sound quality.