2006 is the year the German High End Society organized its 25th trade fair. The High End Society is a European association of manufacturers and distributors of -- as the name clearly states -- better audio and video products. After the society's inception in 1981, it quickly organized its first trade fair in a hotel in Düsseldorf a mere year later. A success out of the gate, the following year continued to see the fair again, now at the Kempinski hotel near Frankfurt. This hotel became the show's de facto home until 2004. From then on, the much bigger MOC venue in Munich would host the event.




For us, this was our first visit to the High End and to Munich as well. We booked a nice hotel in the center of the city only 20 minutes from the MOC by cab. Munich is a very spacious and clean city with lots of historic buildings. Located in Bavaria in the south of Germany with its clean air and open vistas, it is as friendly as its inhabitants are. The open welcome Grüss Gott -- God's greetings -- is always accompanied by a smile just as the farewell Tschüss - ciao. The center with its famous Marienplatz and the historic Rathaus is filled with tourists and locals. From there many shopping streets spread their tentacles with specialty shops and larger department stores neighboring each other. Where else can you find a leather shop next to a shop that specializes in felt? In Munich is the answer.


We fortunately could fly into Munich as the roads, even the no-speed-limit autobahns, were completely clogged. It wasn't merely Ascension Day weekend but Germany was in the throes of preparing for the world championship soccer competitions, the national sport and obsession. In best Teutonic tradition, everything has to be perfect to welcome the hordes of fans and television crews from all over the world. Soccer is much more than a game here. Soccer is really really big business.


Not for us, though. We are here for our kind of fun -audio. The High End 2006 with its tag line "Besser als Live" -- better than live -- seems at first blush somewhat pretentious as we arrive at the MOC just outside the ring around the city. The glass façade looks nothing special while the line of waiting taxis promises a quick escape. How wrong hasty impressions can be!




A week earlier, we had presented our press credentials and were awarded two badges to access the event as freelance journalists. Now we could pick up the accompanying badge holders. In show reports of the previous years, we had seen an atrium with lots of people and various booths around the floor. Now we think that the hallway we're in is that atrium. Wrong again, it's merely a foyer. Adjacent to the foyer are two large halls and on top of that sits the atrium as we shall find out later. With our badges checked, we can enter the first hall. Memories of the zoo at CES in Las Vegas spring to mind but only now it is a zoo -- or better Tiergarten -- with all paraphernalia relinquished. A few hundred booths and stands are organized and orderly and there's not a hint of booming bass. Most stands have static displays and there are listening cabins for demonstrations where needed. These cabins are highly insulated and "audio proof". There's no sound leakage to the outside and the inside acoustics are remarkable good. 12 to 15 attendees can sit at ease in these spacious temp rooms and listen to what's on demo.


We try to cover the grounds as comprehensively as possible and follow a weaving pattern across the floor. All aisles are marked with street signs like Edward Grieg Boulevard or Dave Grusin Square, making navigation easy. Unlike during previous years, the first day of the fair is open to the general public and no longer reserved for the trade. With opening day a holiday, things got busy quickly. Due to the spacious setup very much like the city of Munich itself, the layout absorbed these visitors with ease. It was a revelation to be in a busy hall where everyone was friendly and polite, with nobody trying to walk through you in an insensitive elbowing hurry.

A colorful display becomes our first encounter with audio kit. Eye-popping record washing machines make you instantly smile. No standard black boxes but purple, bright green or red LP cleaners are on display on matching pedestals. It's obvious that the good ol' turntable has made a triumphant comeback. During our visit, we see no booth or listening room without one, whether that be a modest Rega or a fitful contraptions that'll cost you more than a BMW 7-Series or Mercedes CLS.
We admit it, we have a thing for horns. Their special characteristics are hard to find in other loudspeaker designs. In a static display, Heiner Martion presents his Orgon 3-way Orgon spherical horn system. The Orgon can be accompanied by various bass systems of the horned or dehooved variety.




Loricraft is present with Garrard of course. We run into Martina Schöner who almost drags us into the Loricraft booth. She insists that we take a look at her work on a vintage 301 whose inside platter has been polished to perfection to make the idler wheel run as smoothly as possible. She then points at the plinths and their effect on rumble - or rather, the suppression thereof. Last Martina elicits a promise from us to take a look at the German magazine Audio where they compare, amongst others, a restored Garrard 301 to a €118,000 Transrotor Artus. No surprise, the Loricraft Garrard came in not far behind the €113,500 dearer Transrotor.




In the great Bavarian tradition, a sign at the end of the Via Antonio Vivaldi of course pointed to the Biergarten. We prefer to wet our appetite a different way and enter the space age with Haliaetus Technologies instead. Nozzles up!




This French company uses high tech solutions to create small loudspeakers that are capable of producing quality sound usually found only in much larger systems - by jointly developing aerodynamic applications with the European Space Agency ESA and the Marie Curie University of Paris. The result is a series of loudspeakers apparently ready for takeoff for an interplanetary trip. The smallest system, the Firebird, is two-way speakers with two nozzles. These nozzles are turned from solid aluminum and attached to the ports of the organically contoured housing. Haliaetus states that the Firebird has a frequency response of 50Hz to 20KHz with a 6-ohm sensitivity of 87 B. Also available is a Booster, the Haliaetus version of a subwoofer.

Again a nozzle enhances directionality to reduce room mode excitation of the 30cm woofer. With a frequency response of 25Hz to 95Hz, this isn't merely a stunning visual piece of equipment. Haliaetus' listening booth has the Firebird on demo. We receive a boarding card from personnel in pilot uniforms.
Lined with classic aircraft pictures, the listening booth proves the Firebird to be a really interesting design. With overall dimensions of 310 x 270 x 400 millimeter for height, width and depth and a weight of just 6 kilos, the sound is impressive. While playing some gypsy swing, the Firebird demonstrates transient response that is rocket fast (sorry, we just had to say it). This is a loudspeaker that deserves some serious press attention in a formal review.


At the Furutech booth, we see the new deMag for the first time in real life. It is just as the pictures showed us earlier - a sort of UFO. After the firm's well-known RD-2 that is designed to demagnetize all sort of optical media, the deMag is designed to go one step further. Skeptics rejoice. The deMag demagnetizes LPs. Yes, it appears that according to Furutech, the dye used in good old vinyl contains enough magnetic components to deteriorate the sound. Besides of course accommodating digital and analogue media, the larger shape of the deMag makes it easier to treat curled-up cables as well. A review model of the deMag will arrive chez nous any day now so we can see and hear what the effects will be.




No show or trade fair would be complete without live music. In High End's case, the Hungarian Oláh Vilmos orchestra forms the walking act, playing wherever they can in the building.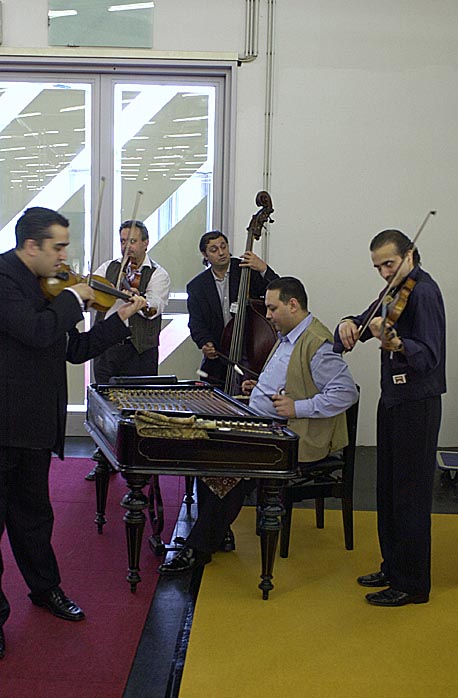 At the KR Audio booth and demo cabin, we not only meet Eunice Kron but spot an unconventional use for a Kronzilla amp. Behind two enormous 1610 valves rejected from production, the slotted transformer covers of the amplifier mock-up are used as piggy bank for business cards. Inside the cabin, a pair of working Kronzillas demonstrate that big tubes can be gentle to details.
A few steps further down the aisle, we chance upon the combination of Von Schweikert, Lamm and Metronome. A pair of VR4-JRs receives data from the new Metronome CD5 CD player or its Gaia turntable mate. The CD5 is a CD3 equipped with a tubed output stage while the Gaia uses the tripod base of the Kalista CD player to which a giant acrylic platter is fitted.