This review page is supported in part by the sponsors whose ad banners are displayed below

Ramsteinerstrasse 17 marks the spot of Boenicke Audio Manufaktur, a small but very different loudspeaker house within a few hundred meters from the Rhein river in downtown Basel.



On a residential street with 5-storey brownstone apartment buildings in a commercial structure tucked into the interior courtyard of this city block, Boenicke Audio's show room cum workshop shares space with a Sicilian printer specialized in very large work. During my visit a 1-meter across blueprint of Switzerland's tallest new building going up within eyesight of this office stuck suggestively out of one of their machines.



In the basement beneath this space Sven Boenicke handles assembly of his speakers and the storage of parts and various packaging.



The primary purpose of my brief pictorial tour is as supplementary evidence for this review. It admittedly paints me into a very tight corner of sounding like an irresponsible braggart, careless exaggerationist or worse, outright liar. What am I on about? Simply the documenting of cubic air volume Sven's latest W5 creations played here. Once you step closer, the grotesque visual disconnect and concomitant implausibility of any chance the tiny W5 monitors could possibly have of filling this 'loft' without a subwoofer yet reproduce an upright acoustic bass with believable scale and power at high levels should hit home as hard as such things are possible without hearing for yourself.


Note open shipping carton with 24 raw W5 cabs; next to it engineered packaging for one pair of production W5 ready to ship.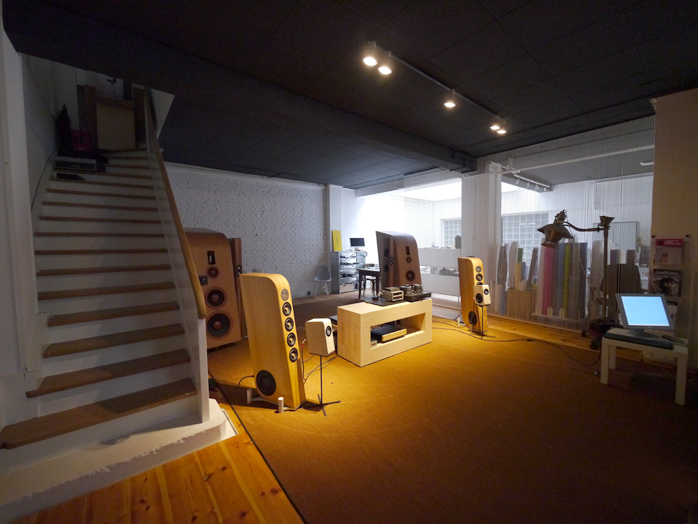 Yes, I was talking about these tykes on stilts. As you appreciate now, we're talking quite cavernous indeed with high ceilings, the printer's equal half of the open floor space behind the thread curtain and an adjoining open second floor atop this staircase.



Walking up it for a downward look, here's what the W5 faced behind the listening couch. Sven Boenicke looked on in the shadows in front of a 6-chair desk for another bit of data on the size of it all.



Here we look at the ambient tweeter of the same W10 model which caused Polish online magazine SoundRebels to single out their exhibit with McIntosh Labs at the Warsaw Hifi Show 2013 as one of the best of the entire show. Marja & Henk had a very similar reaction to that exhibit. Their show report is here.



Here's Boenicke's twin-woofer force-cancelling sealed subwoofer with Italian class D PowerSoft electronics.



To document the advanced tuning features hidden behind the deceptively basic pre-programmed 'profile 1-4' buttons on the sub's control panel, Sven provided us with the following screen shot wherein he exploited PowerSoft's software to design for a client with non-Boenicke speakers an active two-way filter to linearize a very 'unusual' tweeter.



As Sven put it, "here you see a 4'000Hz crossover frequency with a 3-band EQ on the high-pass. The low-pass needed a 4-band EQ and -14dB of attenuation before it. The inset window in the bottom left corner shows just what the high-pass + EQ had to correct to get that super funky tweeter of his into decent shape."



The same high-IQ brains operate in Sven's active bass systems of the SLS2 and W10 models - and now also in his first subwoofer. A customer or dealer could obviously access PowerSoft's control panel via laptop to override the preprogrammed low-pass filter and contour settings for a custom curve. Having been at this for many long years, Sven predicts that most should be perfectly served with one of his preset options for instant plug'n'play. The short of it? PowerSoft's DSP approach operates in a different league than the ubiquitous ICEpower and Hypex subwoofer plate amps.