This review page is supported in part by the sponsors whose ad banners are displayed below


Seven years later, with experience gained managing the sound engineering section at the Slovak as the theater is popularly known in Krakow, with numerous recordings (the studio wasn't large but quite pleasant - 24 tracks of analog Tascam reel recorders, Yamaha reverb and Lexicon delay units, famous Neumann and AKG microphones, three Studer 2-tracks, DAT etc.) of theater and film music (i.e.. for the Krakow composer Zygmunt Konieczny) as well as for television; with hours upon hours spent on recording the performances of the Krakow Opera, which performed in the Slovak on Sundays and Mondays; and last but not least with my just launched PhD studies in the field of contemporary Polish prose... well, I faced the dilemma of what to do next. Should I stay at the university and take up literature full time? Should I find some job in television or a recording studio? An accident (I naturally view it as divine intervention) decreed that my friend's brother having just returned from the USA would open in Krakow the audio distribution shop Audioholic with such brands as McIntosh, VTL, Aerial, Runco, PSB and Nakamichi. I was sucked in for almost two years.



In the nearby city of Chorzow meanwhile, the new Sound and Vision audio magazine was slowly coming together by this time. One day its representatives turned up at Audioholic with a job offer. It's not hard to imagine that a bit later, I became a Sound and Vision journalist where I quickly crawled up the career ladder, first becoming deputy chief editor, a month later chief editor. Then new horizons opened before me. It turned out that soon after getting my PhD, I could start working in the magazine I had always dreamt about since its first issue when it was called From Audio to Radio - or Audio for short. And so it happened. There I have been an editor for the last six years.



After leaving Sound and Vision where I did almost everything (besides audio reviews and keeping an eye on the paste ups, I also worked with the photographer and the graphic section), my work at Audio where I only performed reviews left me lots of free time. Now my wife came up with the idea to start some kind of online audio magazine. Because I knew a graphic artist who specialized in such projects, I asked him to prepare a layout design and quote. Happy with both, I launched the first issue on the 1st of May, 2004 under the title High Fidelity OnLine or www.highfidelity.pl. As it turned out, there was a huge demand for this type of articles. Soon many audio companies were willing to cooperate, audio distributors wanted to put up adverts and so on. Not long after the fourth anniversary, I successfully registered the magazine at court and it's been called High Fidelity ever since. It is a monthly magazine published in the EU territory online or in print.



Can you imagine a better job? I get to listen to music and am paid for it. I get to meet interesting people, test audio equipment most only dream of and get paid. Not everything is roses as there is no work without sacrifice. But I would never trade. I don't need to wear a suit or shave everyday, I can say "get lost" to neckties, I can spend as much time with my family as I want. I only have two rules to obey - absolute honesty towards readers and audio distributors; and meeting deadlines (the internet abhors a vacuum). So I stick to those rules.



My current system:
Analog sources:

Avid Hifi Acutus SP,

Miyajima Laboratory Kansui, Shilabe and Zero,

Denon DL-103SA,

RCM Audio Sensor Prelude IC


Digital sources:

Ancient Audio AIR V-edition, Cambridge Audio Azur 752BD


Preamp:

Polaris III + AC Regenerator


Amplification:

Soulution 710

,Leben CS300XS
Loudspeakers:

Harbeth M40.1 Domestic on

Acoustic Revive Custom Series stands


Real-Sound Processor:

SPEC RSP-101/GL


Headphones:

HifiMan HE-6,

HE-500,

HE-300,

Sennheiser HD800, AKG K701,

Ultrasone PROLine 2500, Beyerdynamic DT-990 Pro 600Ω





Headphone stands:

Klutz Design CanCans


Headphone cables: Entreq Konstantin 2010 for Sennheiser HD800 and HifiMan HE-500
Cables: Acrolink Mexcel 7N-DA6300 & 8N-A2080III Evo, Tara Labs Omega Onyx,

Acoustic Revive RCA-1.0PA, XLR-1.0PA II

,

SPC-PA


Power cords: Acrolink Mexcel 7N-PC9300, Harmonix X-DC350M2R Improved-Version, Oyaide GPX-R
Power distributor: Acoustic Revive RTP-4eu Ultimate, Oyaide MTS-4e
Power line:

Oyaide Tunami Nigo, 3 x Furutech

FT-SWS (R) wall sockets


Portable player:

HifiMan HM-801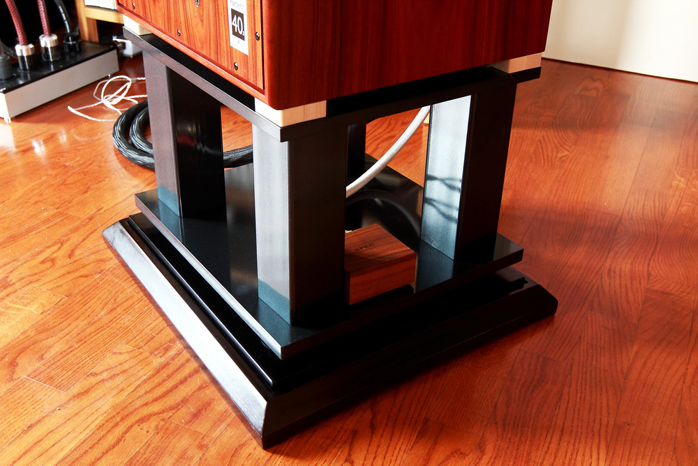 USB cables:

Acoustic Revive

USB-1.0SP and

USB-5.0PL


LAN cables:

Acoustic Revive

LAN-1.0 PA


Router:

Liksys

WAG320N


NAS:

Synology DS410j/8 TB


Stands, platforms & footers: SolidBase IV, Acoustic Revive RAF-48H & RST-38H, Pro Audio Bono, Franc Audio Accessories ceramic disc, Finite Elemente CeraPuc, Audio Replas OPT-30HG-SC, PL HR Quartz, CNS-7000SZ, Acoustic Revive RIQ-5010/CP-4
FM Radio: Tivoli Audio Model One