This review page is supported in part by the sponsors whose ad banners are displayed below



"You know what these look like?" My wife had that answer. "You know how when you're thirsty and in a park, you go to the public water dispenser and put your foot on the trigger to make it gush? That's what these remind me of, faucet and basin." She also commented that the white lacquer looked good; that they were small and inoffensive; and appeared to be missing something. In short, her impromptu reaction was neither lust nor hate. With Pluto's modest origin story, 'twas probably the best one could hope for.



But it wasn't all romance in the park. The shipping cartons looked as though they'd been through a war. Whilst the inner clamshell foam liners had been duly protective, the quality of the outer cartons was so sub par that return shipping to the UK using 'em again seemed questionable. One of the xover/amp's footers had come loose enough in transit to have the entire chassis rattle suspiciously. Fortunately it turned out to be just a foot man, not the lord of the mansion. Opening the top lid to get at its bolt fixed that. But the remote's responsiveness was unreliable. After a few minutes of aggravated button abuse and walking up closer and closer, I capitulated. Give me a cheap working plastic job any day of the week over a shiny metal wand that just won't play ball.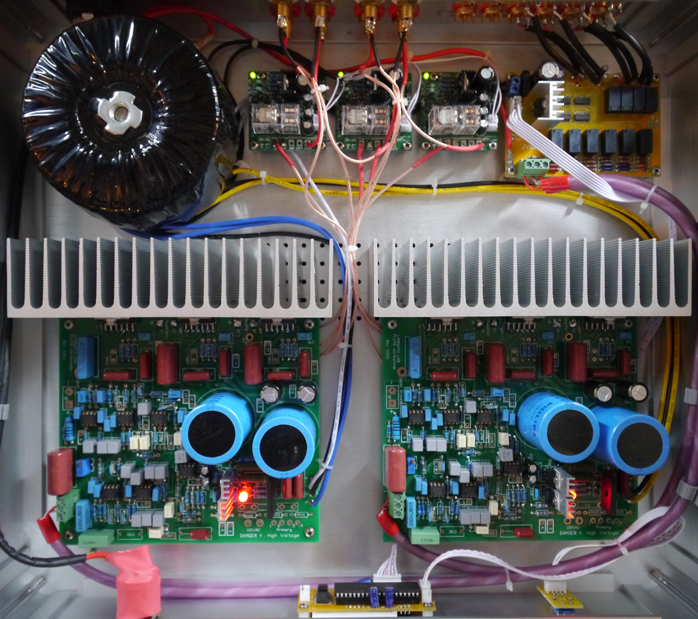 Finally the tweeter stem of one speaker was a bit wobbly i.e. not immutably affixed to its massive aluminium base. The included 2-meter biwire cable in single black sleeves had letter markings for the W/H woofer/high legs which wanted to peel off. Of the amp's six pairs of RCAs, four were properly marked to correspond to the selectable inputs. The final two were unmarked and not mentioned in the owner's manual. Pre-outs? Not. As the upper photo shows, these sockets aren't even connected. Their presence is a mystery. Perhaps the casing was repurposed from another model? And its engraved on/off markings were reversed. Rotating the power knob right does go 'on' but says 'off'. These were little things each. In concert they simply spoke to Chinese QC that wasn't fully with it yet.



That said, the lacquer finish applied thickly to the speakers' aluminum plumbing really was first rate—this art China has mastered years ago to perplex even top-range European manufacturers—the screw-less fittings of the concave tweeters were slick, the binding posts posh and the plinths positively luxurious. The amp casing was deeper than expected and aside from the ubiquitous ringy cover in line with the asking price. To demonstrate just how compact these demoted planets really are in the metal, I snapped a few shots with AudioSolutions' Rhapsody 200 flagships for contrast. If you think about it, a few strategic ferns could easily conceal Pluto from view. Just leave those singular insect eyes on their bowed feelers peek out from the foliage and you'd be all set with sound out of nowhere.



With Xiang having already done the break-in, my work could commence nearly immediately. And the first things you'd feel compelled to mention there would be soundstaging and tone. The first was obvious and predictable, the second perhaps less so if you've never lived with a quasi omni before and assumed that an affordable transistor amp with just a passive 64-step pot would have to be lean and mean.