This review page is supported in part by the sponsors whose ad banners are displayed below




This review first appeared in the October 2012 issue of hi-end hifi magazine High Fidelity of Poland. You can also read it in its original Polish version here. We publish its English translation in a mutual syndication arrangement with publisher Wojciech Pacula. As is customary for our own articles, the writer's signature at review's end shows an e-mail address should you have questions or wish to send feedback. All images contained in this review are the property of High Fidelity or ModWright. - Ed

Reviewer: Marek Dyba
CD player: CEC 51XR
Phono preamplifier: ESE labs Nibiru
Cartridge: AT33PTG
Turntable: Michell Gyro SE
Integrated amplifier: Art Audio Symphony II
Loudspeakers: Modified Project Jerycho with FSAC-2B
Interconnects: Gabriel Gold Extreme Mk2, Binaural focus monolith Ag
Speaker cable: Gabriel Gold Revelation Mk1
Power cables (all equipment): DIY Acrolink 6N-PC4300
Review component retail in Poland: zł20.000; optional DAC zł3.000; optional phono zł1.000; optional black finish zł 1.000

The story of ModWright's genesis is quite familiar. Dan Wright began by modifying products from other brands before finally deciding to offer his own. The mods he offered then and still does are applied to Sony digital decks, the SlimDevices Transporter and current Oppo universal players and add a tube output stage. It thus wasn't a surprise when the first Modwright products turned out to be tubed devices – preamplifiers (the top model even comes with a separate tube power supply) and a phono stage. From the very beginning domestic US rather than Asian manufacture was a core focus of the company. Another was reasonable pricing combined with great build quality and remarkable sound to make the ModWright name synonymous with a high price/performance ratio.



Some wondered how it was possible to manufacture these components in the US given their prices. Many audio fans complain about hifi gear being too expensive or of poor quality due to excessive production savings. As Modwright and Schiit have proven for just two American examples, smart manufacture can reduce production costs without compromising performance. One solution is to share the same enclosure across multiple models. Buying/manufacturing 1000 cases of a given enclosure will always cost less than 300 of one kind, 400 of another, 100 of a third and 200 of a fourth. Dan Wright limits himself to two different cases where most models fit into the smaller one and only the KWA-150 amp requires the big box.



ModWright enclosures eschew dozens of blinking LEDs, unnecessary switches and flashy displays to concentrate on the essentials – with one or two exceptions perhaps to appeal to Far Eastern audiences who seem fond of them. There's a backlit logo plus a few blue internal LEDs (with the amps the latter can be switched off) and for a surcharge the enclosures can be anodized black. I'd rather not see those internal LEDs at all but it's a quite popular effect these days and some even install it with valve gear, including otherwise very reasonable men like Art Audio's Tom Willis.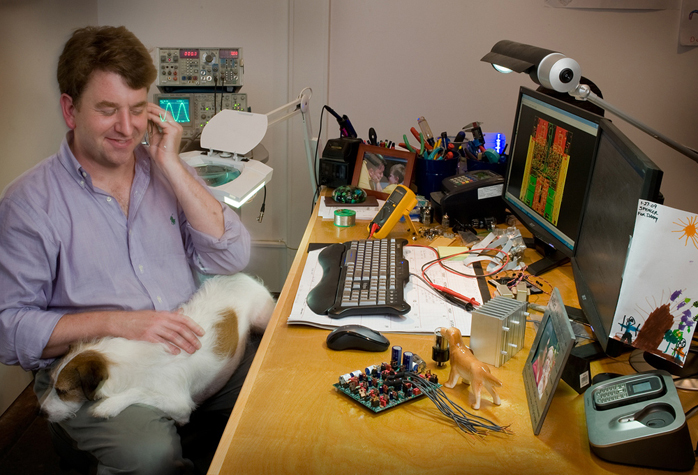 I've been the proud owner of ModWright's KWA-100SE and LS-100 both in black. When this valve fan became a reviewer, he realized that one 300B SET alone wouldn't suffice. I needed a transistor amp that would drive most speakers coming in for review but also one whose sound would please me. Why I chose a ModWright combo aside from its reasonable pricing was that the sound offered had one of the most saturated midranges I'd ever heard from fairly priced solid-state. Surely part of the credit goes to the LS-100 valve pre with its 6SN7s but the power amp itself isn't perfectly neutral either to possess a slightly warm sonic signature.



And that's exactly what drew me to it. For review purposes I merely had to slightly bias for that warmth. That richer smoother somewhat warm sound also was why I went after the SE rather than standard version. The latter was too cool and dry for my tastes and had me doubt that I'd enjoy it properly over an extended period. Whilst the stock LS-100 is the least expensive preamp in ModWright's portfolio today, I never stop marveling about its remarkable performance particularly once I'd replaced the stock tubes. The LS-100 also was Dan's first modular component with à-la-carte options via expansions slot to take an MM/MC phono stage or DAC. Firms like Accuphase have done this for a long time but that doesn't make modularity any less smart.



When I acquired my LS-100 these card options were still works in progress and only recently did I have opportunity to hear the DAC. Fortunately the KWI200 is just as flexible. It offers expansion slots for a transistor phono stage and DAC which unlike with the preamp can be accommodated together where the LS-100 plays it either/or. For this review I received the integrated fully loaded to also comment on these options.