This review page is supported in part by the sponsors whose ad banners are displayed below


T

he two massive speakers

each measure 48.5 x 44 x114cm DxWxH and whilst certainly large weren't inordinately heavy at 100lbs a piece (the shipping crates would add 60lbs per). These are three-ways marrying a 6

"

horn tweeter and 17

"

horn-loaded midrange with a 15" woofer in a stylish highly refined cabinet. The horns employ

zero compression direct front-loading. The membranes thus couple directly to the horn throat for a uniform response with wide dispersion and to eliminate distortion caused by more conventional compression chambers. The tweeter uses a phase plug and ring radiator. Efficiency is 98db/W/m and 25 watts are recommended though quality amplification of higher and somewhat lower figures is acceptable.



| | |
| --- | --- |
| Bass is handled by the 15"-woofer with Alnico V magnet and untreated cellulose cone. The dust cap has a central hole to eliminate compression inside the magnet. The enclosure is a sealed box to use pneumatic suspension for control. The woofer's free-air resonance is 22Hz and specs rate extension to 30 cycles though no +/- tolerances are given. Overall impedance is a benign 8 ohms and the designer indicated that the speaker accommodates amplifiers of both high and low damping factors. | |


Since the three drivers were designed and built from the ground up, they ought to be linearly matched to require little equalization in the crossover. Casta thus could choose a filter network they claim benefits from simplicity. High-value inductors use ferromagnetic cores to place less copper wire in series with the drivers. Caps are polyester and electrolytic which the designer considers sonically superior in this application.

The crossover mounts on multilayer Birch boards to control resonances. The tweeter employs an external trimming attenuator to compensate for room, ancillaries and taste. This affects the 5-20K bandwidth. There's only a single pair of high-quality biding posts so no biamping or biwiring is possible. The Casta is intended as a

plug'n'play product. J

ust add quality music and enjoy.



The speaker is an interesting aesthetic blend of classic and modern design. The front baffle is predominately the driver array on piano gloss black. Fit and finish are upscale and the drivers mount flush to come off quite attractive. The speakers do come with cloth grills but best sonics dictate they should be removed. The top too is gloss black whilst the side panels are done up in a rich glossy red veneer which further enhances the upscale appearance. The rear panels hide the true cabinet depth in ingenious fashion by employing receding facets in matching gloss black which serves not merely the cosmetics but diminishes cabinet resonance. The back panel has an oversized recessed aluminium plate for the large binding posts, tweeter attenuator, company logo and technical information as well as the hand-written serial number. On the bottom are rubber footers and the designer feels that alternate devices such as spikes or roller blocks impair the sonic abilities of his design. The speakers are designed to complement existing furnishings rather than dominate and the total cosmetic package of the Model C reflects classic refined furniture to be extremely well executed.



My system configurations varied drastically over the course of this review to see what the speakers would tolerate and what would be required for best results. The designer recommended placement between 30 to 100cm from the front wall and indicated that a carpet in front of the speakers would be useful against floor reflections. My first pairing was with the Audio Space Reference 2S preamp and Bel Canto power amp. The second round went to the Wyred4Sound DAC2 taking over preamp duty. The delightful little 15wpc Topping TP22 T-amp became a wild card to see if it could make them sing. Casta'

s distributor Robert Neill then was kind enough to bring with him heavy-duty support from his catalog with the AudioValve Challenger 250 monos and

AURALiC

DAC as well as his HiDiamond cable loom to expand my hardware repertoire. Add to that the feisty little Tortuga LDR passive preamplifier from sunny Florida arrived for its own review and I had the bold, the budgetary and the breathtakingly priced to pursue various musical paths.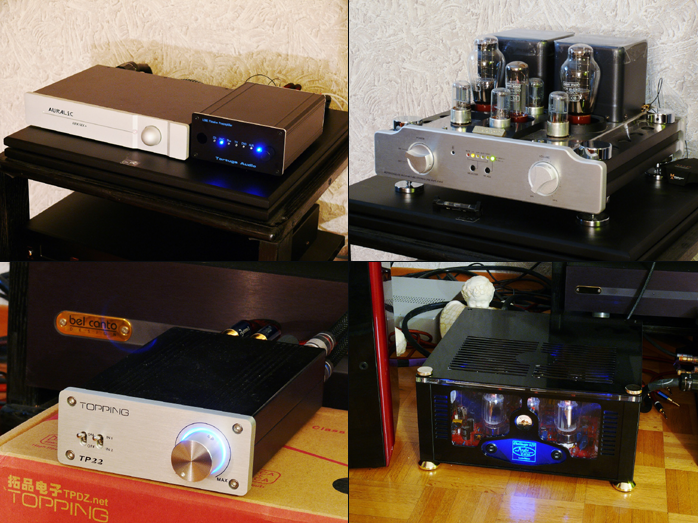 The distributor recommended a few hundred hours of break-in to reach full potential. The horns showed their abilities considerably faster but the woofers required more time to hit their stride. The bass region evolved from being a touch polite to reasonably robust but retained high articulation throughout. Mr. Neill indicated that the speaker is capable of delivering considerable low-end authority. Because by the end of the review the big 15" driver was still making gains, there should be potential for further improvement over an even more extended period than I had available. The most dramatic and rapid change was one of cohesion. Initially the speaker sang with three distinct voices which in short order fused into a single musical entity which approached single-driver widebander ability. At this point it was time to start assessing what they were capable of. Time to face the music with a small sampling.


"Fanfare for the Common Man" by Aaron Copland from FIM Supersounds III [FIM XR24 073] is a Winston Ma XRCD24 remaster of the Reference Recordings Copland piece performed by Eiji Oue and the Minnesota Orchestra originally captured by premier engineer Keith Johnson. Big, dynamic and bombastic, this a great showpiece featuring drums and horn. Generous acoustic, delicate shimmer and tympani resonance contrast with massive air movement.


If the prior CD was a challenge of extroversion, "Tombeau du Vieux Gallot" from The King's Teacher/Works for lute, theorbo and guitar by Robert de Visee played by Eduardo Eguez [M.A Recordings MO64A] was the height of intimacy, subtle inflection and an exploration of string attacks and decay from three different instruments. The talents of Mr. Eguez are captured by the minimalist microphone technique of M.A's Todd Garfinkle. This is rich, detailed and soothing fare.


"Imagine the Fire" from The Dark Knight Rises by the immortal Hans Zimmer [Sony Classical 88725431172] is a thematically complex album that borrows from and expands the composer's previous repertoire. Crisp, clean and extremely strong bass lines run underneath this piece. Zimmer's work here challenges any system to articulate and differentiate.

Bryan Ferry has always avoided the cookie-cutter mold even with Roxy Music. On

"

September Song

"

from As Time Goes By [Virgin Music 724384827021], his cabaret-style vocals lend themselves perfectly to this material from the 30s. The recording and orchestration lean deliberately towards vintage, giving the music a slightly off-kilter muted feel. It's the sonic equivalent of a hand-tinted sepia photograph. The quality of the effect is brought to life when the system is properly balanced. Too dry and it is bleached. Too wet and it becomes indistinct mush. There is a strong collection of songs on this CD which are given a fresh feel and intensity. This cut is hauntingly poignant and becomes ever more so as life slips past.




"

Hold Me Now

"

from Best of the Thompson Twins: Greatest Mixes [Arista ARCD-8542] is a nice compilation of remix versions of the 80s Thompson Twins songs that extend and expand the originals with additional texture and space. This cut features a warm tonal balance, good dimensionality and a combination of steep transients and surprisingly rich acoustic instrumentation in a dense mix for some nostalgic fun.


"No More Shall Meads be Deck

'

d with Flow

'

rs: N. Lanier

"

from The English Lute Song: Julianne Baird/Ronn McFarlane [Dorian DOR-90109] is stunning vocal work by Julianne Baird and virtuoso lute exploits by Ronn McFarlane brought to life by the minimalist microphone technique of Dorian

'

s Craig D. Dory and Douglas Brown for a beautiful balance that captures huge lively hall acoustics, unbridled dynamics and delicate attacks and decay.