This review page is supported in part by the sponsors whose ad banners are displayed below



Writer: Christopher Vacano
Source: ModWright-modified Transporter, Empirical Audio Pace Car II & Overdrive Signature DAC, Paul Hynes regulated power supply, MusicVault music server, ModWright-modified Sony NS-9100ES
Preamp: ModWright LS36.5 with PS36.5
Power amplifiers: VAC PA100/100, Gamut D-100, Gradient active crossover designed by Gamut
Speakers: Quad ESL-63, Gradient SW-63, Kings Audio Hummingbird electrostatic supertweeters
Power Conditioners: Nordost Quantum Qx-4, Audioplan FineFilter II, Audioplan Power Plants
Cabling: Omega Mikro Planar Active, Crystal Cable Reference, Artisan Ultimate Silver, Shunyata Python power cables
Headphone system: Sven Boenicke-modified Stax SRM-T1 tube amplifier, Gingko Audio platform, Stax SR-Lambda Signature, Stax SR-404 Limited
Sundry accessories: ASI acoustic resonators (full complement), Clearaudio Magix2 isolators, Mapleshade platforms, Acoustic Revive RR-77 Schumann Generator, RIQ-5010 Quartz Insulators, RGC-24 Ground Conditioner, REM-8 EMF Canceller, QR-8 Quartz Resonators, Finite Elemente Resonator, Shun Mook Mpingo discs, Black Diamond Racing isolators, LessLoss Blackbodies
Room size: 4.2m x 3.1m dedicated nearfield listening room with brick walls, concrete floor and fitted carpeting. Full acoustical room treatment with Acustica Applicata DaaD diffusor/absorber elements


| | |
| --- | --- |
| | Introduction. Many years back, my first profession was that of a recording engineer with subsequent technical projects for professional audio firms—EMT, Solid State Logic, Otari—within recording studio, film and broadcast facilities throughout Europe. Since then I have shifted my professional focus over to the financial industry but have retained my passion for realistic music reproduction and its underlying technological trends. |

Relocation to Switzerland some 15 years ago enabled me to set up a dedicated near-field listening room within our house much to the delight of my wife whose acceptance of audio systems other than B&O or Piega living-room designs has always been close to nil. But more on the WAF later. In 2008 I expanded my system's source from a Sony/ModWright SACD player to a server-based system including Neal van Berg's MusicVault, a ModWright-modified Transporter and lastly an outboard DAC and reclocker from Empirical Audio. Aside from this I have always been a big fan of electrostatic transducers—the 'typical' transparency affinity—and have owned Quad/Gradient speakers and Stax headphones for longer than I care to mention. With this in mind I was very eager to enroll in the Burson/Audez'e People's Review and consider myself very fortunate in being able to evaluate this innovative equipment and carry out direct comparisons within my current system and listening context.


Review process. I would like to mention that I viewed the supplied Burson/Audez'e components as a combo and as such did not compare the Burson to my preamp consisting of the two-piece ModWright tube-regulated linestage. I did however compare:
• the Burson DAC to my Empirical Audio reclocker/DAC/Paul Hynes PSU;
• the Burson/Audez'e combo to my Stax SRM-T1/Lambda Signature.



Burson HA-160D DAC. The Burson DAC was compared to my Empirical Audio Pace Car II reclocker feeding the Overdrive Signature DAC both powered from a Paul Hynes regulated external PSU and sourced from the ModWright Transporter network player. Alternately I connected the Burson DAC and Empirical Signature Overdrive DAC to the S/PDIF output of my Sony 9100ES SACD player. During the course of multiple listening sessions I switched between different music genres including vocal ballads (Eva Cassidy, Mike Silver, Sara K.); piano instrumentals (Yiruma); Soul (Joss Stone); Pop (Roxette, Hurts); Rock (Sunrise Avenue, Wayne Jackson, The Eagles); Celtic (Loreena McKennitt), Jazz (Patricia Barber, Ben Webster, David Sanborn) and classical (Verdi Nabucco Chorus, Beethoven Symphony N°. 5).


The outward appearance of the Burson HA-160D made an extremely solid and high-quality impression. Whilst I did not open the unit to examine interior components, it is a well-known fact that Burson utilizes discrete conversion and class A output stages, custom voltage regulation, a metal film resistor attenuator, two power transformers for digital and analog circuits as well as high-grade Wima, Dale and similar premium parts. The very thick aluminum casing makes the Burson much heavier than its dimensions would suggest which has advantages in terms of eliminating audible chassis resonance. All this for $1.250 ($1.100 street price)? That was the first thought that came to my mind.



In October of 2009 I purchased what was said to be a state-of-the-art conversion system from Empirical Audio including a reclocker (Pace Car II), custom-built Signature Overdrive DAC plus an outboard regulated power supply from Paul Hynes in the UK. This system has since advantageously bypassed the internal converters of my ModWright Transporter. Empirical specializes in jitter reduction technology which sets this modular system apart from many competing components, albeit at a cost of over $7.000 including the linear regulated PSU which has since replaced the four standard wall warts. Very high-quality components like Black Gate and Sonicap Platinum caps are utilized here as well as special low-jitter upgrade clocks (44.1 & 96kHz), very short signal paths and an I²S digital connection between reclocker and DAC. No contest I thought to myself as I was setting up the Burson HA-160D alongside my established digital source gear. I must admit that I was more than a bit surprised after having compared both DACs based on my initial impressions.



It seemed challenging at first to detect major differences between these two setups. Both DACs had a very detailed analytical but never harsh presentation – very natural and ultra quiet. Soundstaging was excellent on both. I became increasingly intrigued and started comparing and listening to different types of music. The incredible transients and dynamics of the Rodrigo y Gabriela (11:11) guitar riffs swung the presentation decisively in the Burson DAC's favor. I simply heard more shades of dynamic contrast together with a 'weightier' presentation and enhanced PRaT. As the differences between the two DAC setups had been small on other types of music i.e. Celtic, female vocal ballads etc., I searched for more impulsive tracks this time in the form of Patricia Barber's Modern Cool. The bass and drums on "Factory" and "Light My Fire" again scored big time with the Burson in the areas of reproducing dynamics and PRaT.



My more elaborate gear sounded flatter on occasion, meaning that it did not present dynamic contrasts and musical flow of rhythm quite as involving. Granted these differences were not major but could be discerned in direct comparisons. A significant point though was the difference in price for this level of high-end performance. During my listening phases I placed a Finite Elemente resonator on top of the Burson. That's a device which converts even the smallest mechanical chassis vibrations into heat. I could not make out any differences in sound.



| | |
| --- | --- |
| | Incidentally I used the HA-160D with the standard basic cables supplied – no high-end cables that might result in further sonic benefits. In summary the Burson HA-160D offers sound and build quality I never thought possible at this price. The presentation was especially remarkable in terms of immediacy, dynamics and tonal richness without sacrificing transparency, in some respects more akin to a high-end tube than transistor amp. The build quality, resonance-free chassis, elaborate power supply and high grade components inspire confidence for a long and reliable life span. Operation is simple and input/output connections were fine for me. Although it would be nice to have XLRs, they would need to be true symmetrical paths which would undoubtedly increase the price. Whilst the elaborate stepped attenuator is a big plus, I would prefer to have smaller volume steps but again that's a trade-off that would necessitate more high-quality film resistors at higher prices. The wife acceptance factor was 10 on a scale of 1 to 10, with lots of praise for the elegant appearance plus a sound quality assessment of 'that's very engaging to listen to'. |


Burson HA-160D + Audez'e LCD-3. During this part of the review I would have liked to use another dynamic headphone on the Burson and also another headphone amp for driving the Audeze's LCD-3 with a dynamic competitor (the Audez'e LCD-3 is a dynamic headphone with planarmagnetic transducers). My setup however includes a vintage Stax SRM-T1 tube amplifier intended only for use with electrostatic headphones because it supplies the required 580V bias voltage for polarizing the electrostatic headphone diaphragms. My SRM-T1 has recently been modified by Sven Boenicke of loudspeaker fame and is no doubt in the same league as the Burson but without digital circuitry. My headphones feeding the SRMT1 outputs are of course electrostatic and include a Stax Lambda Signature and a newer Stax SR-404 Limited. In some respects I do not think that these phones are in the same league as the LCD-3 whereby a comparison with a Stax SR-007 Mk II might have been a fairer match. Interestingly the newer SR-404 Limited sounds inferior to my older Lambda Signature. It seems to me that Stax has made significant advances with electrostatic transducers only with the advent of the SR- 007MkII and the newer and far more expensive SR-009. This review setup involved the following signal paths:
• Transporter > Pace Car reclocker > Signature DAC analog out > Burson/Audez'e combo
• Transporter > Pace Car reclocker > Signature DAC analog out > ModWright linestage > Stax combo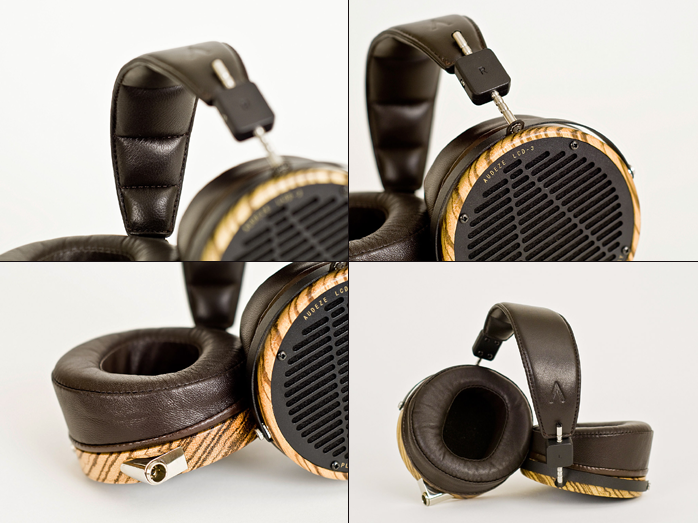 Photos compliments of Woo Audio


After plugging in the LCD-3 and listening to the Burson/Audez'e combo I thought, wait a minute, something's definitely not right here. Murphy's law was at work. I had selected the wrong output for the Audez'e LCD-3. They came to life after connecting to the left output labeled "H" for high gain. The first things that were noticeable immediately on the Audez'e LCD-3 were the very earthy and well-defined lower bass presence and extension plus the way in which large-scale dynamics were presented. The Audez'e had very palpable bass. Just listen to Patricia Barber's Modern Cool and the amazing reproduction of the drums, bass and guitar lines. It's very pronounced and was immediately audible. The same held true for the Eagles' Hell Freezes Over XRCD when listening to the "Hotel California" bass lines and drum sound. The soundstaging was very good, indeed far better than the typical between-the-ear events many headphones without external crossfeed circuitry reproduce. Clarity, subtle articulation of detail and the way transient attacks were presented all came through very good but not as good as electrostatic phones can be in these respects. Whilst I don't have a dummy head with measuring gear to substantiate this, the frequency balance of the Audez'e felt warmer than I personally prefer, leaving me with an impression of slightly recessed highs compared to the mid and bass spectrum. That said the tonal balance of the Audez'e is such that it does cater to a broader range of music and recording styles. I listened to all available music genres but spent a good deal of time with Verdi's Nabucco Choruses and Reiner's Beethoven Symphony N°. 5 both on XRCD.



Photos compliments of Woo Audio


Turning to the Stax combo I can now acknowledge that the Lambda series of headphones is not the best model for comparison with the Audez'e LCD-3. It should really be a Stax SR-007 Mk II. Those familiar with the Stax Lambda series know that their biggest drawback is a somewhat etched presentation in the upper midrange. Dynamics, impact and deep bass are very good but not state-of-the-art. The SR-007 MkII is much better in this respect. However, these electrostatic phones really shine in terms of clarity, transient speed and subtle articulation of musical detail at different listening levels. Here even the Lambdas are superior to the LCD-3 in my opinion. The setup was interesting because the two headphones were so very different in tonal character. The Audez'e LCD-3 did leave me feeling somewhat unhappy about my Stax Lambda particularly concerning low-end corporeality and upper midrange glare. The latter is especially evident due to the inherent coloration but also because many engineers boost high frequencies in the mix. My ideal headphone would really have to combine the virtues of both – perhaps a Stax SR-009 or Audez'e LCD-4 without a $10.000 tube-based HPA to go along.



Oh yes, I touched on the WAF for the Burson earlier on. With regard to the Audez'e headphones, I got a WAF of 10 for the stunning Zebrano ear cups but only a 5 for the sound (seemed to have a 'dark' presentation) and a 1 for the heavy weight. That's the way the cookie crumbled.



Closing comments. In any case it was a real highlight to be able to extensively listen to and review these meticulous audio products. Having spent literally decades enjoying high-end consumer equipment, it's very plain to see the rate of change at developing better sounding (and better built) gear at lower prices than previously possible. Apropos prices, having lived in the USA, Germany and Switzerland, it has always been aggravating to see local prices amounting to the typical USD retail price times an unrealistically exaggerated exchange rate factor (plus sales tax and S&H) for identical gear in Germany and Switzerland. Seemingly the situation in Switzerland has recently become more realistic but I'm not sure about Germany. Hopefully these large price discrepancies which are to the detriment of the end user will be evened out over time. I know that manufacturers in the pro-audio world do undertake corrective measures with their international distribution. But this topic would fill the context of another review.



My sincere thanks to all involved for supplying this enlightening review opportunity. The bottom line in a nutshell is really this. Go for it, listen to this equipment and judge it for yourself. The value for money at this high a quality level has never been rosier. Take it from an unbiased expert. Romeo my Chartreux cat always welcomes new encounters as you can see. He acknowledges the bottom line in his capacity of a listening expert with superior auditory ability.