This review page is supported in part by the sponsors whose ad banners are displayed below



Reviewer: Srajan Ebaen
Financial Interests: click here
Source: 27" iMac with 3.4GHz quad-core Intel Core i7, 16GB 1.333MHz RAM, 2TB hard disc, 256GB SSD drive, ADM Radeon HD 6970M with 2GB of GDDR5 memory, PureMusic 1.86 in hybrid memory play with pre-allocated RAM and AIFF files up to 24/192; Audirvana 1.3.9.3; April Music Eximus DP1, Esoteric/APL Hifi UX1/NWO-M with Audiophilleo 2
Preamp/Integrated: ModWright LS-100 with Synergy Hifi tubes, Esoteric C-03, Bent Audio Tap-X, TruLife Audio Athena [on review]
Amplifier: First Watt SIT1, ModWright KWA 100SE, Bakoon AMP-11R
Speakers: Aries Cerat Gladius, Voxativ Ampeggio, AudioSolutions Rhapsody 200 [on review]
Headphone amps: Eximus DP1, Burson HA-160DS, Bakoon AMP-11R, Nuforce DA-100 [on review]
Headphones: ALO Audio-rewired Audez'e LCD-2, Beyerdynamic T5p & T1, Sennheiser HD800, AKG K702; HifiMan HE500 and HE6
Cables: Complete loom of Zu Audio Event, KingRex uArt USB cable with Bakoon BPS-02battery supply
Stands: Artesania Esoteric twin 3-tier with optional glass table, Rajasthani hardwood amp rack
Powerline conditioning: 1 x GigaWatt PF2 [on power amps], 1 x GigaWatt PC3-SE Evo [on front end components]
Sundry accessories: Extensive use of Acoustic System Resonators, noise filters and phase inverters
Room size: 5m x 11.5m W x D, 2.6m ceiling with exposed wooden cross beams every 60cm, plaster over brick walls, suspended wood floor with Tatami-type throw rugs. The listening space opens into the second storey via a staircase and the kitchen/dining room are behind the main listening chair. The latter is thus positioned in the middle of this open floor plan without the usual nearby back wall.
Review Component Retail: $1.850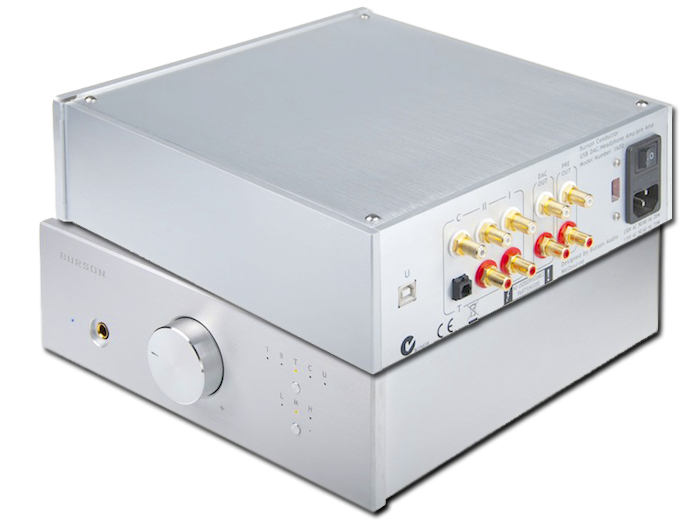 Reviewers with a handful of reviews each month can't help it. Over the years they revisit certain brands on a fond basis. In my case April Music, Bel Canto Design, Eastern Electric, FirstWatt, Gallo, Mark+Daniel, ModWright, NuForce, Red Wine Audio, Trafomatic Audio, Wyred4Sound, Zu and Yamamoto SoundCraft come to mind. The value connection is no accident. It's leit motif. Whenever these companies with their personally proven track records solicit me, I invariably accept. Being familiar with their prior output makes it easier to progress report on new models. Conspiracy theorists cry foul. Regular readers appreciate the higher likelihood of worthwhile discoveries. On the enthusiast's beat nothing breeds ennui like boredom after all. It's far more fun to be a hit man than a crooner of standards no matter how golden.



Burson too belongs on my personal hit(man) list. A quick whisk into our archives tells that tale. Today is about the Conductor, the second model in the Musician Series. This launched with the Soloist earlier this year. By elevating the firm's proven head amp circuit and stepped attenuator to the next level, it took no oracle to predict two consequences. A/, their 24/96 USB and BB 1793A-based DAC modules would be next. B/, these revamps would first appear in the Soloist. The HA-160D has arguably been their most popular model yet. So it was predestined that the Musician Series would get dee'd next. And so it did. Amen.



The D-for-digital deed. With their latest 24/192 asynchronous TE8802 USB transceiver, team Burson keeps the Tenor faith rather than start a dalliance with XMOS, Cypress Semiconductor, C-Media or Archwave AG. But they go off the BurrBrown res—the 1795 chip then would have seemed most likely—to instead join the sabre rattlers at 9018 ESS Street. But this is no mere chip swap to make it current. The entire converter board has been redesigned to fit Burson's take on the Sabre recipe. In hoary Down Under tradition these class A circuits of passive I/V conversion and FET buffering are discrete. They avoid all integrated chips except for the Tenor and ESS of course. This silicon switch nets converter specs of 130dB channel separation, 0.0005% THD+N and 10ppm clock jitter.



As the Musicians' new triple threat of DAC, preamp and headphone amp in one box, the Conductor inherits the Soloist's parallel single-ended headfi + linestage circuit. It runs a current-feedback FET input stage and output buffer of 10 power and power supply transistors. Those heat-emitting bits mount to the bottom panel and are separately powered from their own 35-watt transformer. The other transformer powers the DAC boards with discrete secondaries for digital and analog. No switch-mode power supplies are allowed here.


"At 4wpc you will find an even more matured sound compared to the Soloist we sent you in June" promised John Delmo. "The DAC gets its own fixed output and the variable preout isn't just a rerouted ¼" signal. It taps into the main FET voltage gain stage prior to the headphone current buffer. You will again find pleasant improvement here compared to the Soloist." Input impedance on the analog sockets is 36.5KΩ. Overall S/N is better than 96dB. At 16Ω, headphones encounter a massive 4 watts. Into a 30Ω load output impedance is <1Ω. Variable local negative feedback in the voltage gain stage creates three different gain settings for 0.18, 1.8 and 4wpc stops to accommodate high-sensitivity IEMs and low-efficiency planarmagnetics. In pre-out mode this translates to 7.7, 14 and 18dB of gain. The Soloist's internal 25-watt power dissipation has gotten beefed up to 45 watts. For even more beef, here's what might be Burson's new power amp.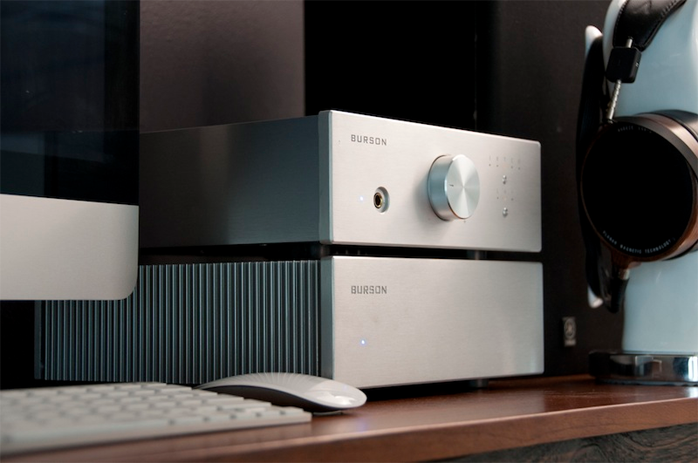 When I applauded its pending launch, John went pale. This photo wasn't supposed to be on their website. Yet. An over-eager web monkey had leaked it. Nyet. Attentive Sydney contributor John Darko too had spotted it for his news blog. Too late. Not that it took an oracle to predict an amp. Burson's full-size 160 Series separates have gone extinct after all. But that'll be tomorrow's tale. Today's telling is that the Aussies have finally updated their digital. That seemed long overdue. From Peachtree Audio to Calyx, from Wyred to Resonessence Labs, their choice of Sabre chip has a broad following. Burson's discrete building expertise has over the past years endeavored to reduce their parts count (see Soloist review for details). Such matured analog chops were now to be married to hi-tech number-crunching jitter-munching silicon. I anticipated real game.


Their DA-160 had never resolved raw detail and air like the very best digital below $3.000. Yet it always and already had majored on organic tone density where competition played it thinner and crisper mostly. With a 32-tooth sabre on its arse, would this quality now get a resolution boot to finally catch up with 2012? That context made the $1.850 retail hike clearly inevitable. Curmudgeons will hiss as is their job. But that's still half of what an AURALiC combo of MX+ and Taurus demands. A Zodiac Gold/Voltikus duet wants a solid €3.600 and the Eximus DP1 demands $3.000.

How would the Conductor fare as a DAC which is the biggest news of this latest Burson model? John Delmo had another request. I'd only touched on the Soloist's preamp performance in passing then. Despite lack of remote control—being married to their discrete attenuator would make a stepper motor a very clunky thing indeed—his team felt strongly that the Conductor makes a superb line stage. Could I spend time on that? I squeezed a grey cell to make it so. First I had more questions: