This review page is supported in part by the sponsors whose ad banners are displayed below

When he decided to organize his business in China, Candeias declared that  "hifi jewelers are the wrong strategy". It creates too many products for the happy few. BMC acts like a true globally oriented company. And the comparison with the two last brands remains based on pricing because in the fields of technology and quality, BMC clearly aims for the very highest standards (though here I must admit that some realizations in NAD's Master Series have to be considered true high-end achievements too).


Maybe this Sino-Teutonic background plus Candeias' Latin roots really are key factors for gathering the best technology, stylish appearance and competitive pricing all under the same roof.


Another difference with large-scale marketed brands is the importance attached to interfacing with the end user. Whilst depending on a traditional dealer network to demonstrate their products to local customers—attractive prices are granted to demonstrator units—BMC manage all sales directly and ship to the customer, then pay the dealer. This gives BMC a far better and more directrelationship with its customers and also a more effective control over actual pricing.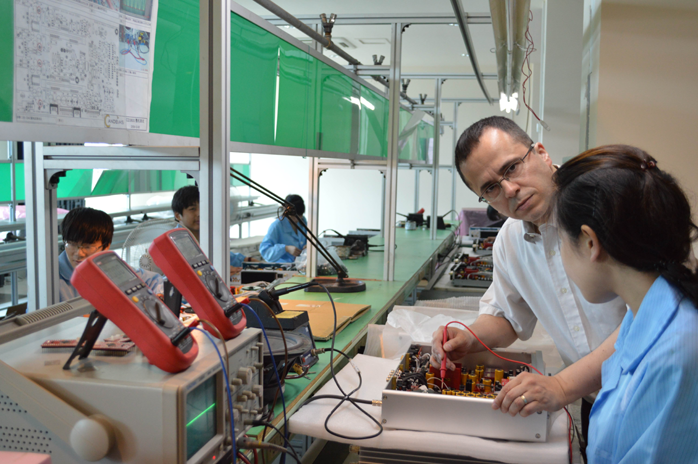 BMC's purpose is to design exceptional modular products which take advantage of future updates and options to stay abreast of constantly developing technology advances. Even in the field of high-end equipment, today's state-of-the-art components might be tomorrow's antiques. Hence each of BMC's products can be upgraded to preserve their state-of-the-art performance and their customers' investments.



A requirement to keep this kind of enterprise in a sector affordable to most is the containment of production costs. BMC is a small-sized cottage industry player yet production runs of 300 units for each model go beyond traditional high-end conventions. In fact BMC sees itself as an entrepreneurial company able to synergize a variety of factors - its factory in China; new applications for already proven proprietary technologies; dense technology modules which are hard to copy; German-based marketing operations; streamlined sales and distribution; and the identification of a specific high-end audio sector that's not presently served.



Against all imaginable odds Carlos Candeias remains a very simple freely accessible individual who does not act as any audio guru despite very respectable experience. Lastly BMC could perhaps be viewed also as a kind of Japanese-minded organization which combines a deep sense of rationalization with serious R&D capabilities. Then there is this extraordinary will to go forward shared with a Chinese attitude of cutting prices and serving the greatest audience. Maybe these DNA components are the results of time passed in Japan with CEC's engineers, then more time spent in China.



Having painted such a promising intro of products claimed to be "innovative, elegant, upgradeable, easy to set up and run, superbly constructed, musical sounding, sought by consumers, profitable for dealers, quick to ship - and affordable" it was time to see what resided inside their new CS2 integrated amplifier. Could Candeias' uncommon entrepreneurial vision square the circle?