This review page is supported in part by the sponsors whose ad banners are displayed below


</td>

The bulk of the information comes from the midrange. The lower and higher regions are organic extensions and cannot be treated as separate entities or as what gives the sound its character. The treble is subtly sweet. Versus the Devialet D-Premier Air it had less resolution and was warmer but also more ostentatious. Whilst otherwise similar to the AX-5, the French Lavardin IT-15 seemed to be less detailed. The Ayre put itself between those two by sounding both organic and very informative at the same time.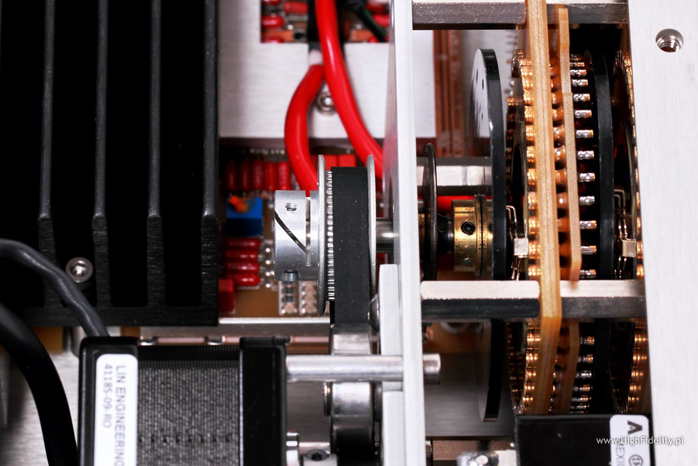 One of the elements that will most likely bias a decision for or against this amplifier is how it presents bass. I've heard amplifiers with more control and better differentiation. The AX-5 is very synergistic so there is no problem with accepting how it handles the bass yet it won't be everyone's cuppa. If we mostly listen to acoustic instruments, we should appreciate its full-bodied sound with superb integration of the sub ranges of a double bass' tone though we will miss the control of the Devialet or Soulution. Even the Accuphase A-260 has tighter lower bass. The Ayre actually reminded me of what I heard from the Dan D'Agostino Momentum Stereo, whilst keeping in mind the scale of reference. The double bass from albums issued on the Pirouet label preserved its characteristic as being a little dull. It was perfectly sized as well as properly placed on the stage but definition was not particularly special.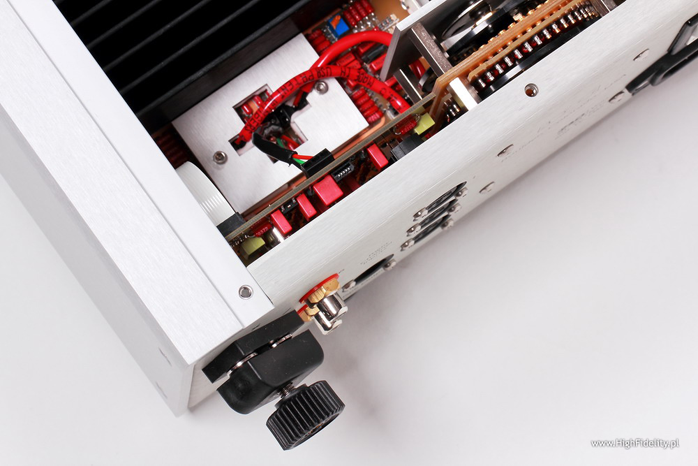 If on the other hand we prefer electronic instruments or the amplified bass guitar, I don't think any of it will bother us much if at all. We get intimacy, very good dynamics and a deeply saturated low end. It's enough to listen to something as special as Jean Michel Jarré's second disc from his Essential & Rarities box beautifully issued in black polycarbonate to resemble vinyl. These are old Jarré recordings from the 60s and 70s but sonically very special. The Ayre gave me most of what I had earlier heard from my reference headphone system: immediacy, fullness and the proper mood. But this is no 'perfect' machine and as such merely an integrated with no pretensions to be one of Ayre's top designs. Even so it is a complete proposition with an exceptionally detailed sound which paradoxically seems to be warm and pleasant too. I have attempted to show that there's more to it than a simple attempt to hide information under a layer of sweetness.



Summary. This level of performance has been implemented using the highest level of workmanship and materials. You can be assured that the Ayre AX-5 will provide you a lifetime of musical enjoyment. - (owner's manual). I couldn't have said it better!



Review methodology. The AX-5 amplifier is equipped with a proprietary low-power consumption or quasi standby mode to enable quick warm-up and reduce the time needed to achieve maximum performance. To eliminate all variables, I still powered the unit up an hour before the auditions. It's worth noting the manufacturer's recommendation regarding initial burn-in - from 100 to 500 hours. I would treat the recommendation very seriously as Ayre does not bluff as a manufacturer. The amplifier is equipped with nice feet but like almost all other audio components sounds much better with specialized anti-vibration feet. During the review it sat on three (two in the rear, one in the front) Franc Audio Accessories ceramic discs and those in turn on the Acoustic Revive RAF-48H anti-vibration platform. The review had a character of an A/B comparison with A and B known. Music samples were 2 minutes long. Whole album were also auditioned.



The Lektor Air V-edition CD player amplifier connected to the amplifier via Acoustic Revive XLR-1.0PA II balanced cable whilst power was provided via the Acoustic Revive Power Reference cord. During the review I also used the Marantz NA-11S1 file player. You should give that a try. It's unique despite a comparatively low 12.000PLN price for high-end audio. It's probably one of the most interesting current audio file players on the market regardless of price. Since it has balanced analog circuitry and XLR connectors, it was a very good match for the AX-5.



Design. Since breaking the hegemony of tube devices, we have over the last 40 years witnessed the dominance of a particular amplifier exterior that has survived largely unchanged. I mean a box in the shape of a flat cuboid with a wide and relatively low front sporting knobs and switches and a rear with all the connectors. Audio manufacturers have been trying to break that monotony with various ideas just to mention memorable executions from Cyrus' Mission days as an industrial design that was completely different from McIntosh, Accuphase or Jeff Rowland. But still these are mere variations on a theme. That said, things have changed for the better. More and more manufacturers pays attention to the solidity of their enclosures to ensure the best protection of the interior components against physical micro vibration. Another recent novelty is the widespread use of microprocessors as interface brains. After an initial obsession with as many knobs and indicators as possible, the pendulum has swung back into minimalism and asceticism promoted mainly by the Scandinavians of Copland, Primare and Bladelius. But it's minimalism of appearance, not capabilities. Although American to the core, the Ayre AX-5 benefits from these experiments.