This review page is supported in part by the sponsors whose ad banners are displayed below

| | |
| --- | --- |
| Enough foreplay. The CD drawer hosted Frames leader Glen Hansard's first solo album Rhythm and Repose. His "The Swell Season" project and parallel film "Once" have become favorites also live, hence this album's top ranking in my personal charts. With "You will become" Hansard displays his particular style from the go. It kicks off chilled with an acoustic guitar and Glen's voice in focus. And immediately the K812 captivated. Utterly different than expected, details and natural vocals jumped out at me. The sheer intensity which the new AKG brought to the task is utterly alien to the K701. By playing it significantly tamer, even Sennheiser's HD800 comes in a far second on this count. And the song still escalates wildly before tapering off in an emotional climax. | |

I found it fascinating that the K812 felt as direct and involving as one expects it from many on-ear 'phones whose lack of inner-ear reflections meanwhile won't cast as large and natural a stage. With the AKG's very grippy approach the tune's intensity translated uncut. And the K812 is no on-ear but classic big circumaural design. Whilst the general suspension recalls prior AKG models, it's really built up quite differently. The bridge is no longer self-adjusting but clicks into place in various settings. This could read like a disadvantage but is rather more reliable in practice. The oversized cushions and very soft leather create long-term wear comfort. The headband and responsive cup swivels avoid undue pressure even with long sessions and the ventilated build counters the development of sweaty ears.



As with many contemporary designs the ear cushions are shaped asymmetrical to better seal. The drivers too are angled to support a more natural staging. Atypical for the brand the stage of the K812 isn't very generous but in matters of precision and sorting was amongst the very best I've heard.



Imaging is so good that any attempt at artificial improvements backfired. The K812 thus was the first headphone I tried where activation of crossfeed circuitry led to a collapse of the virtual stage. Whilst the more frontal projection and extreme stereo separation were keenly apparent, localization focus on recordings with good spaciousness suffered noticeably.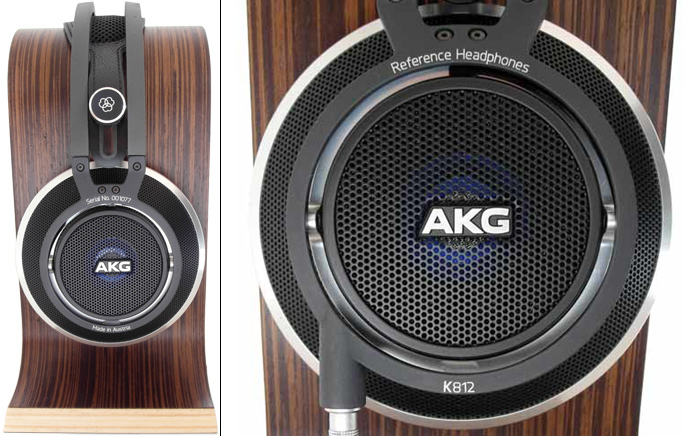 | | |
| --- | --- |
| | The next surprise came in the bass. Here I used electronica to take the measure: Kraftwerk's 1978 Die Mensch-Maschine in the remastered version of their catalogue. This early work previewed disco bass which only became broadly popular far later. Here it asserts itself in typical Kraftwerk reductionism. Particularly on the title track the remaster shows off extremely quick ultra dry bass textures. And here the AKG got extraordinary. Where most prior big AKG weren't known for their bass power, the K812 is bound to rewrite that perception. Even at low volumes infrasonics convinced completely and never with any overdone 'subwoofer' bloom but truly top-notch impulse response. |