This review page is supported in part by the sponsors whose ad banners are displayed below




This review first appeared in the July 2011 issue of hi-end hifi magazine fairaudio.de of Germany. You can also read this review of the Abacus Ampollo in its original German version. We publish its English translation in a mutual syndication arrangement with the publishers. As is customary for our own reviews, the writer's signature at review's end shows an e-mail address should you have questions or wish to send feedback. All images contained in this review are the property of fairaudio or Abacus - Ed.


Reviewer: Jochen Reinecke
Source: Marantz SA 7001 CD/SACD, iPod Classic 80GB with Pure i20 digital-direct dock, Pro-Ject Xpression III with Ortofon OM 30 Super
Amplification: Pre - Funk Lap-2, Dynavox TPR-2; power - Myryad MXA 2150; integrated - Yamaha A-S2000, Yarland FV-34C III
Loudspeakers: Neat Momentum 4i, PSB Synchrony One, DIY transmission line based on Fostex F120A, Nubert nuBox 101 with AW 441 subwoofer
Cable: AVI Deep Blue interconnect, Kimber 4VS speaker cable
Review component retail: €2.900

| | |
| --- | --- |
| For more than a year the Abacus Electronics website had indicated that the forthcoming Ampollo amplifier would be a kind of reference or special edition effort from the hifi smiths of Nordenham. There were various developmental teasers and curiosity-piquing photos from the laboratory of Karl-Heinz and Hanno Sonder along the way but it took until now to get an actual Ampollo sample from formal production into our paws. | |
| | |
| --- | --- |
| | Of course this wouldn't be  the first visitor from the house of Abacus. Three years ago their smaller Ampino [left] had much impressed our fairaudio publishers to walk off with a Favourite Award 2008. The A-Box 5 active monitor leashed to their Prepino preamp too had made good impressions. The path was thus cleared for Ampollo as new king of that hill. |

Anyone familiar with the Abacus amplifiers already knows that like Aaron the firm prefers transconductance mode to tap their transistors' collectors rather than emitters as the majority in hifi does. To save space, the interested reader is directed at the first link to read up on the subject. In the Ampollo the input stage works with the kind of Burr Brown opamps that usually appear in better microphone preamps from the likes of T.C. Electronics, Focusrite and APB to mention a few. The Ampollo also runs a thermal compensation circuit which ramps up the bias after power-up but lowers it once operational temps have been reached. This lowers distortion. The power supply is true dual mono including the four capacitor banks which supply 80.000uF per channel.



While Ampollo is officially a power amp, it's a variable type to double as purist integrated if one can overlook the lack of remote and just two inputs without source selector. Time to inspect the machine more closely. It does indeed look like a bona fide hifi machine whereas earlier Abacus gear tended more to the laboratory look with—cough—unusual takes on the term user friendliness like Ampino's strange speaker terminals or Prepino's lack of input selector (by remote only).



At first glance Ampollo exorcizes these growing-up pains or peculiarities really. The casing is a classy if purist full-metal clear-anodized aluminium jacket which optionally arrives with a peekaboo plexi top and puts nearly 13kg on the scale. The front has two buttons. The Alps precision pot alters amplification factor directly rather than resistively knocks down signal the circuit just amplified. This optimizes S/N ratio and makes its figure fully independent of volume setting, i.e. the same at very low and very high levels.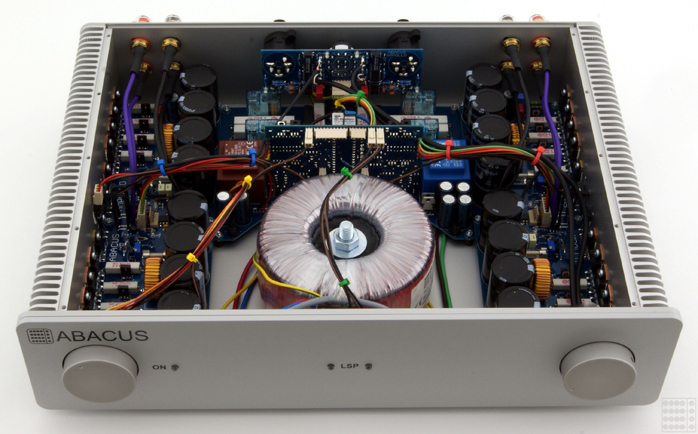 The left knob selects between on, off and auto-on. The latter is a signal-sensing mode which automatically moves from 0.5-watt standby consumption to full music playback. It was designed to not trip up over momentary impulses but to react only to 'real' music signal. My tester occasionally proved too lazy however to wake up with a music alarm. Then I had to perform the ol' hand job.